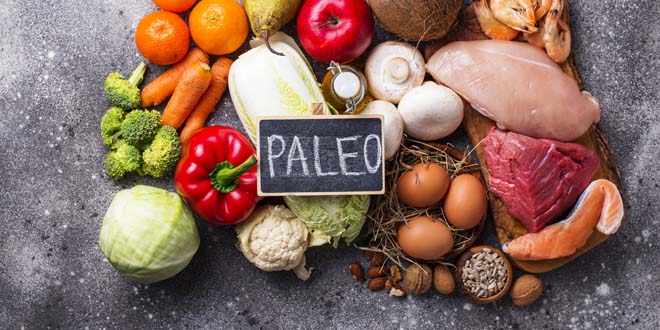 By now you've likely heard the buzz around paleo! Read on to find out exactly what the paleo diet includes—and if people with diabetes should consider it.
What is the paleo diet? Meant to mimic the diets of our early ancestors, the paleo diet (short for Paleolithic diet) is also referred to as 'the caveman diet'. Following this diet means you'll be eating mostly fruits, vegetables, eggs, fish, lean meats, nuts and seeds. It also means you'll be eliminating processed foods, potatoes, beans, sugar and dairy from your diet. As a result, the paleo diet is relatively high in good fats, low in carbs and offers a moderate level of animal protein. In fact, those who eat a strictly paleo diet also cut out grains and legumes, as well as certain fats and vegetable oils (e.g. margarine, canola, corn).
Can I follow a paleo diet if I have diabetes? Given its low carb content, a paleo diet may lead to improved blood sugar control, which can be good for people with diabetes. Other benefits include weight loss and improved heart health too. Some early studies have even shown that paleo diets can improve hypoglycemia and reduce your insulin requirements¹. One small study showed that regardless of exercise, people with type 2 diabetes who followed a paleo diet were able to improve blood sugar levels and reduce body fat². However, there are no clear recommendations for incorporating the paleo diet into your type 2 diabetes management plan. More research needs to be done to determine exactly how and why paleo may benefit you.
Given that celiac disease is also more common when you have Type 1 diabetes, a paleo diet could be a good option for this population because it is gluten-free.
What we do know, however, is that low-carb diets are generally good for keeping blood sugar levels in check. Find more on why this is the case here.
Which foods can I eat on a paleo diet? Fish, meat and non-starchy vegetables will be your staples on a paleo diet. That means opting for lettuce, kale, spinach, cabbage and celery when it comes to choosing vegetables. You can also eat fruit in small quantities, but they should be the low-carb variety, such as kiwi, berries and plums.
For protein, you'll have plenty of options including:
Lean meat (chicken, beef, turkey, pork)
Fish, shellfish and other seafood
Nuts (except peanuts)
Eggs
Seeds (e.g. pumpkin, sunflower, flax)
Here are some tips on buying meats and poultry plus a delicious recipe for turkey/kale meatballs, that will fit well into a paleo meal plan.
On a paleo diet, your fats will come from animal, fish or plant sources (e.g. avocado, nuts, coconut). Certain plant-based oils can also be consumed, such as olive, coconut and macadamia oils.
Which foods should I avoid? The list of taboo foods on a paleo diet include:
Starchy vegetables (e.g. corn, potatoes)
Cereal grains (e.g. oats, wheat, barley, rice)
Legumes, including beans and peanuts
Dairy
Processed foods
Refined sugar and vegetable oils
Salty foods (e.g. chips, crackers, soy sauce)
If you're sticking strictly to a paleo diet, it's also recommended that you take out alcohol and coffee, although the occasional bit of either can be consumed.
Are there risks following a paleo diet when you have diabetes?
Your insulin requirements may dramatically change on a paleo diet to make up for the reduction in carbs. That's why it's important to talk to your doctor or other healthcare provider before starting this diet to ensure you are following it safely.
If you're still on the fence about whether Paleo is really for you, here's a rundown on other popular diets that may suit your lifestyle better. As well, here is more information about finding the right diet for managing your diabetes.
Whether it is paleo or another diet, finding a meal plan that suits your lifestyle and tastes will help ensure it's something you can stick to for the long-term.