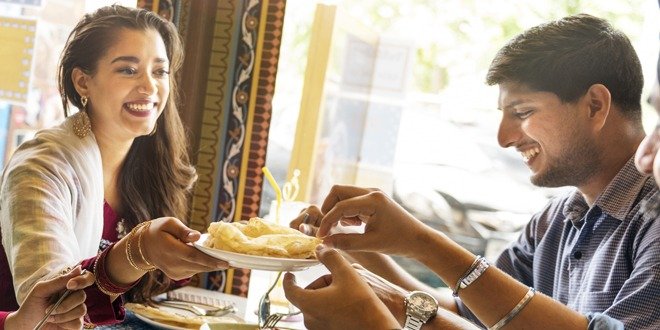 Are you looking for a South Asian meal plan for diabetes? There are lots of ways you can adapt traditional South Asian recipes and ingredients into your meal planning, to ensure that the foods you eat are healthy and tasty.
The plate method for a South Asian meal plan
The plate method is an excellent way of determining how much – and which kind – of foods you should eat at any given meal. At dinnertime, for example, your plate should look something like this:
Starchy foods – such as rice and roti – should comprise one-quarter of the plate.
High-protein foods – such as chicken, fish, beans, lentils, tofu and paneer – should comprise one-quarter of the plate.
Vegetable curries and salads should be one-half of your plate. In place of starchy vegetables – such as potatoes, corn and peas – use vegetables such as cauliflower, green beans, and eggplant in your favourite dishes.
On the side, add a milk or milk alternative – such as low fat raita or lassi – along with a piece of fruit, to complete your meal.
Tips for preparing South Asian dishes
Here are some tips for preparing traditional South Asian dishes that are flavourful and healthy!
One great aspect of South Asian cooking is that it is full of flavour because of the array of spices that are used. Take advantage of the bounty of flavours that spicing allows, instead of seasoning dishes with salt.
If cream is necessary for a traditional dish – for example, makhani murgh (butter chicken) – use lower fat cream (5% MF), or even 2% milk, rather than whipping cream (35% MF). Be sure to add it at the end of the recipe, to avoid curdling.
When making curries that are tomato-based, use fresh tomatoes or "no salt" canned tomatoes.
When cooking vegetable dishes and curries, use non-starchy vegetables such as green beans, cabbage, okra, eggplant or bitter gourd.
When making breads, such as naan or roti, use gram flour. Made from dried and ground chickpeas, gram flour is a good source of fibre and will not raise your blood sugar level as high as if you use white flour. Mixing whole wheat flour with gram flour adds a nice texture to the dough and keeps it soft.
Store-bought paneer is made with full fat milk, so it's high in fat. You can make paneer at home, using skim or 2% milk. While it takes a little time, your homemade version will have less fat, commercial additives and salt.
Instead of buying pre-made curry powders and mixes, make your own spice blends. There will be fewer additives and much less salt in your homemade versions.
Raita, the traditional South Asian condiment made with yogurt, is a great way to cool off spicy dishes. Adding raita to your meal is an excellent way to increase calcium and vitamin D in your meal plan, and it's easy to make at home with low-fat or no-fat yogurt.
Eating healthily doesn't mean that you have to give up your favourite traditional dishes. With a little planning, you can enjoy South Asian foods without sacrificing flavour!