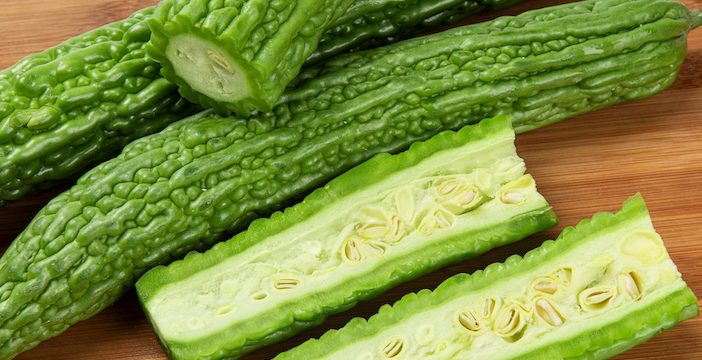 Bitter melon is a vegetable that is related to cucumber and zucchini. (It is also known as bitter gourd, bitter squash and balsam pear.) It's oblong in shape, and has a dark green rind with small bumps all over it, which makes it look like it's covered in warts. Don't be put off by its appearance, though! Bitter melon has lots of nutritional and health benefits, and one of them may be lowering your blood sugar levels.
Blood glucose lowering
Bitter melon contains at least four ingredients with blood glucose-lowering properties:
A chemical substance called charantin
A compound called vicine
An insulin-like compound known as polypeptide-p
A protein called lectin
These substances all work to help reduce blood sugar levels.
Researchers in Thailand studied whether bitter melon lowered blood glucose levels, compared with metformin, in people who were newly diagnosed with type 2 diabetes. The study participants were split into four groups, to receive 500 milligrams, 1,000 milligrams or 2,000 milligrams of bitter melon per day, or 1,000 milligrams of metformin per day. While bitter melon did lower blood glucose levels, it didn't have as much of an effect as the metformin did. For further information about this study, click here.
A number of other studies were less conclusive. Bitter melon did reduce blood sugar levels in many study participants, but not by enough to make a real difference to a person's diabetes management. A 2014 study concluded that that while it appears that bitter melon has a beneficial effect on blood glucose levels in people with either diabetes or pre-diabetes, more studies are needed to determine whether the vegetable might play a role in the management of diabetes.
Diabetes management aside, bitter melon is also used as an alternative medicine in many parts of the world to treat colic, fever, burns, chronic cough and painful menstruation.
Nutritional benefits
Whether it lowers your blood glucose levels or not, bitter melon packs a solid nutritional punch. It provides a good source iron, magnesium, phosphorus, potassium and vitamin B-6. It's also rich in lutein, a vitamin that is crucial for eye health.
Menu planning
So, how to incorporate bitter melon into your regular meal planning? As the name specifies, it has a distinctly strong flavour. That's why it's most often used as a flavourful addition to a larger dish. Here are a couple of ways that you can prepare it:
It's often used in stir fries, so the next time you get out your wok consider adding bitter melon to the assortment of vegetables you'll chop!
Bitter melon can be added to soups and stews, just as you might add zucchini or any other squash-like vegetable.
Stuff the melon with lean ground beef or chicken and sautéed onions, bake it, and serve over a tomato- or curry-based sauce.
Remember, only the flesh and rind of the bitter melon should be eaten; while the seeds are edible, they're very hard and dense, and should be thrown away.
Reducing the bitterness
To reduce the bitter taste of the melon, slice it up, sprinkle with salt and let it sit for 10 minutes. Then, rinse the slices and prepare as you wish.
Another way to reduce the strong flavour is by blanching it. Slice it up and boil it in a pan of lightly salted water for a minute or two; remove the pan from the heat and rinse the bitter melon with very cold water.
However you incorporate bitter melon into your menu planning, be sure to look for this unusual – and unusual looking! – vegetable the next time you visit your vegetable market or grocery store.
Read our other articles about diabetes diet