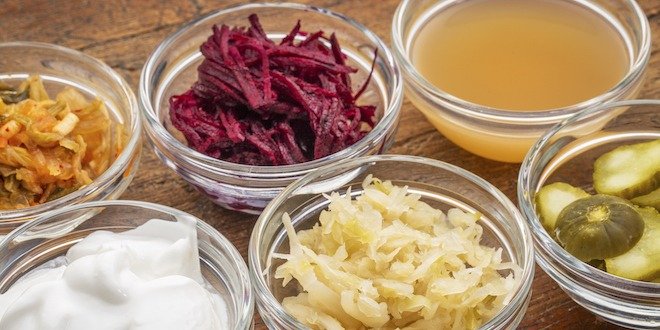 What is fermentation?
Fermentation is a process in which food is exposed to bacteria or yeasts, either via inoculation or naturally through the air. Fermentation has been used as a method of preserving food for thousands of years. In fact, before refrigeration, curing meats and pickling fish and vegetables was the only way to extend the life of perishable foods.
Here are some examples of how fermentation is done: In yogurt-making, fresh milk or cream is fermented using lactic bacteria starters or "cultures" called Lactobacillus bulgaricus and Streptococcus thermophilus. The bacteria are added to heated, pasteurized, homogenized milk, and the milk is then incubated at a specific temperature to maximize the activity of the bacteria. These bacteria convert the lactose (milk sugar) to lactic acid, which thickens the milk and gives it the tangy taste characteristic of yogurt.
The popular Korean side dish called kimchi is made by soaking cabbage in salt water to kill off any harmful bacteria. The bacteria that remain after soaking – called Lactobacillus – convert sugars and carbohydrate into lactic acid, which preserves the vegetables.
What foods are fermented?
There are many types of fermented foods, including:
Dairy products, such as yogurt, cheese, kefir and lassi.
Vegetables, such as cabbage (sauerkraut or kimchi), cucumbers (pickles or gherkins) and olives.
Kombucha, a fermented beverage made with yeasts and bacteria that are infused into sweetened tea.
Miso, a thick paste made from fermented soybeans. Miso is a popular ingredient in many Japanese dishes, including the very popular miso soup.
Tempeh, which is made by cooking soybeans and inoculating them with Rhizopus mold. The white mold binds the beans together into a cake.
Natto, a soybean product made from cooked beans that are fermented with Bacillus subtilis natto
Why are fermented foods good for you?
Besides food safety, fermented foods have a number of benefits:
They account for the synthesis of vitamin K and certain B vitamins.
They ease food digestion. For example, lactose may be in part reduced to glucose and galactose, which are easier to absorb. In people who are lactose intolerant, the decreased lactose content of a particular food may make it more tolerable for them to consume.
They contribute to the enhanced absorption and utilization of certain vitamins and minerals.
They protect against 'bad' bacteria: the presence of 'good' bacteria in your gut stop the growth of harmful bacteria or viruses.
The effect of fermented foods on the microbiome
Besides the beneficial effects listed above, the effect of fermented foods on the human microbiome is important. (The "microbiome" is a fancy name for the colonies of trillions of bacteria that we carry around in our gut – or digestive system – which control a number of processes within the body.) In particular, eating a variety of fermented foods improves the variety of microorganisms in the microbiota that populate your gut.
However, you care to enjoy fermented foods – whether you eat a serving of yogurt or a bowl of kimchi – it's clear that adding these delicious foods to your regular nutritional plan can help improve your overall wellness.