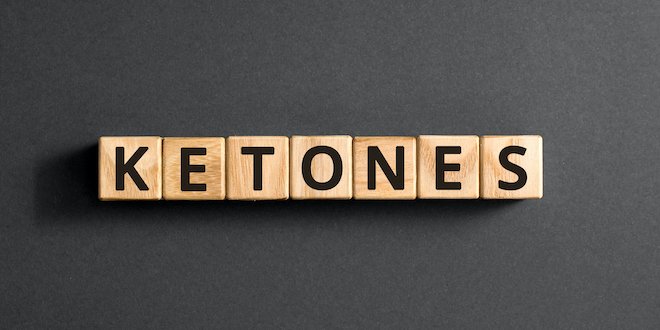 What are ketones?
Ketones are chemicals that your liver makes. You produce them when you don't have enough insulin in your body to turn sugar (glucose) into energy. Since you need another source of energy, your body uses fat instead. Your liver turns this fat into ketones and sends them into your bloodstream. In people with diabetes, a build-up of ketones can be life-threatening.
What causes high ketones?
The two main causes of high ketones are:
Lack of insulin. You may suffer from insulin deficiency for the following reasons:
Forgetting to take insulin
Using insulin that is no longer active (for example, if it is too hot or too cold)
Using an insulin pump that is disconnected or not working properly
Dehydration (for example, if you have the flu or another illness that makes you vomit )
Not eating enough. Ketones can form when you haven't eaten enough food for a prolonged period of time (for example 18 to 24 hours) and your body is in a starving state.
What are the symptoms of high ketones?
Dry mouth
Blood sugars higher than 15 mmol/L
Increased thirst
Frequent urination
Symptoms that require medical attention or treatment in the hospital include:
Breath that has a "fruity" smell
Stomach pain
Nausea and vomiting
Confusion
Extreme fatigue
Rapid breathing or difficulty breathing
When is high, too high?
A build-up of ketones changes the delicate pH balance in your blood. This can cause a condition called diabetic ketoacidosis (DKA), which can be life-threatening. DKA can result in:
Loss of consciousness
Diabetic coma
Swelling of the brain
Death
This is why prompt treatment of high ketones is so important!
When should I test for ketones?
You should test your urine or blood for ketones in any of the following situations:
Your blood sugar is higher than 15 mmol/L
You are experiencing frequent urination, extreme thirst, nausea, vomiting, confusion, or fruity-smelling breath
You are sick and are unable to eat or drink for a prolonged period of time
How do I test for ketones?
You can test your blood or urine to measure ketone levels.
Urine ketone strips can be bought without a prescription at a pharmacy. They turn a dark colour after 15 seconds when dipped in urine. The amount of ketones is indicated by how dark the strip turns.
Meters are also available to test your blood for ketones. These meters have strips that are very similar to blood glucose testing strips, which indicate the level of ketones.
What is the treatment for high ketones?
If you detect ketones in your blood or urine, the treatment includes drinking plenty of water or other calorie-free fluids to help flush ketones out of the body, taking insulin to lower your blood sugar level and rechecking both your blood glucose level and ketone level every three to four hours.
Early treatment can help you avoid hospitalization or the development of DKA. Your diabetes healthcare team can help you create a plan for managing high ketones.
If you cannot manage high ketones on your own, it is important to seek medical treatment. This can include:
Intravenous fluid replacement: it is important to rehydrate with fluids to help dilute extra sugar in your blood.
Electrolyte replacement: when a person has high ketones or DKA, their electrolyte levels (such as potassium and sodium) tend to be low. It is important to replenish electrolytes that are low to keep the heart and muscles functioning well.
Intravenous insulin: this will help reduce excess sugar in their blood.
How do I prevent high ketones?
Proper management of your diabetes is the best way to prevent high ketones. This includes:
Taking all medications as prescribed by your diabetes healthcare team
Checking your blood sugars regularly
Following a healthy diet
Having a sick day plan
Knowing what to do when your ketones are too high