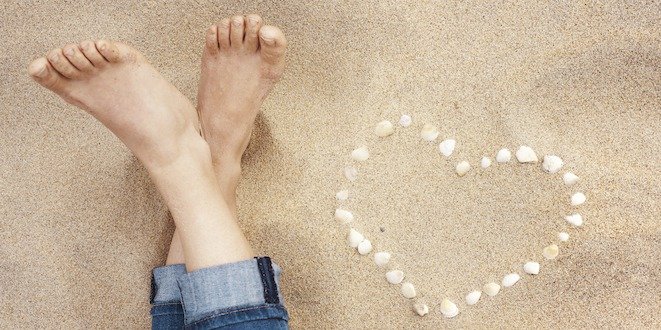 We often hear scary stories about foot problems for people with diabetes. If care is taken it doesn't have to be that way!
There are two basic anatomy problems with feet. First, feet are the furthest body part from the heart, so the circulation system has to go the longest without blockage to bring blood to them. Feet are also the furthest body part from the spinal cord, which brings nerve endings to the feet, allowing them to detect cold, heat and pain – in other words, to help them recognize when they are in danger!
To keep the circulation to the feet in good shape, it is important to practice "heart smart" behaviour – the most important of which is to not smoke. Next, having cholesterol and blood pressure "at target" (see my blog Diabetes tests…what do they mean, when are they done?) will help prevent the arteries from narrowing. Nerve damage is primarily caused by high blood sugars, so having an A1C close to target can prevent nerve damage. Nerves can also be damaged by excess alcohol intake.
If there is a circulation problem to the feet and there are breaks in the skin, ulcers can occur. These are usually at the tips of the toes. If there is nerve damage, ulcers will usually happen on the bottom of the foot. Ulcers are more likely to happen if there is pressure on the foot. This can go undetected if the feeling is lessened by nerve damage. It is really important to look at the feet every day, especially if the person with diabetes cannot feel their feet very well.
Our feet can be hard to see properly, so you can support someone living with diabetes by inspecting their feet for them. Look for cuts, ulcers, pressure points, infection or calluses. Good footwear is essential. Make sure new shoes fit. Take out the insole and put the foot on it and be sure there is room all around. After wearing new shoes for a while, look at the foot and be sure there are no red spots or pressure points from the shoes. If a new ulcer develops or there appears to be an infection, have a health care person look at this right away.
It is still important for people with foot problems to lead a healthy lifestyle. Exercise increases circulation but it may be difficult for some people with foot problems to exercise. They may need to adapt their exercise by doing activities that don't involve a lot of weight bearing, such as using upper body weights, swimming, or a reclining bicycle.
Look after your feet and you will have them for life!!