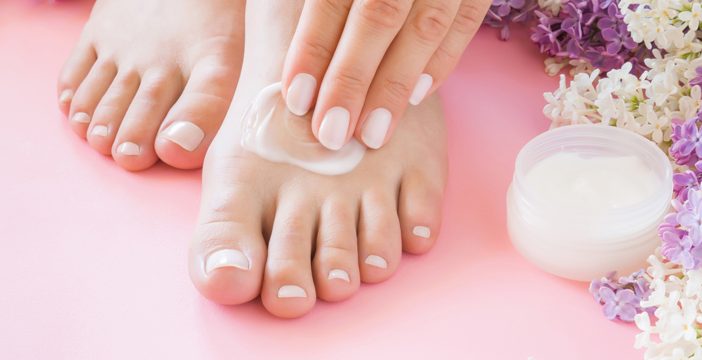 Checking your feet when you have diabetes is very important, as foot problems can develop quickly. Some of the issues that can arise include neuropathy (numbness, tingling or pain in your legs or feet), wounds (known as diabetic foot ulcers), callus build-up (patches of thick and hardened skin), dry or cracked areas, as well as cartilage and muscle damage.
Daily foot checks
Here are some tips for doing daily foot checks:
Carefully check the top, bottom and sides of your feet, and between your toes. If you cannot see your feet, have someone else check them.
Check for dry, cracked skin.
Look for blisters, cuts or scratches.
Check for redness, increased warmth, or tenderness when touching any area of your feet.
Look for firm or hard spots.
Check for ingrown toenails.
Look for corns and calluses.
Call your doctor right way if you discover any foot problems. Do not try to treat these problems yourself. Even small sores or blisters can become big issues if an infection develops or they do not heal.
Washing and drying your feet
Wash your feet every day with lukewarm water and mild soap. (Stronger soaps may damage your skin.)
Check the temperature of the water with your hand or elbow first, to ensure it's not too hot.
Don't soak your feet for long periods of time.
After washing, gently dry your feet, especially between the toes, with a soft towel.
Once your feet are completely dried off, apply lotion or oil. Choose a moisturizer that does not contain perfume or alcohol, as these ingredients will dry out your skin
Do not put lotion, oil, or cream between your toes. (There is enough moisture between your toes, so creams and oils are not needed there.)
Caring for your toenails
Soak your feet in lukewarm water to soften your toenails before trimming.
Cut the nails straight across, leaving part of the white nail plate. (Curved nails are more likely to become ingrown.)
Make sure the edge of each nail does not press into the skin of the next toe.
If you have neuropathy, it's best to leave toenail clipping to your podiatrist or another member of your healthcare team.
Take the time!
You probably have routines in place as part of your diabetes management, like taking your medications at the same time each day, or testing your blood sugar before and after meals. Checking your feet daily is just another part of your diabetes management routine. It's your best defence against preventing foot complications. Set a time every day to check your feet. To help you remember to check your feet every day, set up a daily reminder in your smartphone.
Finally, it's important that you have your bare feet checked by your doctor at least once a year. Also, ask your doctor to screen you for neuropathy and loss of circulation at least once a year. Make it part of your annual checkup!