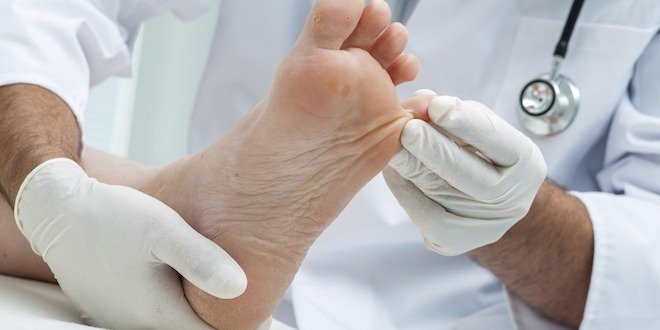 Knowing when to seek help from a healthcare professional is essential knowledge for people living with diabetes, in order to prevent foot complications. Diabetes Canada recommends that people with diabetes have their feet checked by a specialized healthcare professional at least once a year. Because diabetic neuropathy can dull the ability to feel pain or other sensations, it is important that people who have this condition see a foot specialist more frequently.
While visits to your healthcare team are important, it's also essential that you check your feet every day, so that you can spot any problems as soon as they begin to develop and take action accordingly.
Checking your feet
When checking your feet every day, here are some things you should be looking for, and contacting your healthcare team about, as needed:
Foot and leg temperatures: if any areas feel warmer than normal, it may indicate that you have an infection.
The colour of your feet and legs: be sure to tell a healthcare professional if you notice any changes in the colour of your leg or foot (for example, getting very pale or very red).
Numbness, pain or tingling: this could be a sign of neuropathy.
Sores, bruises, cracks or blisters: these can develop into foot ulcers if they are not properly treated; always report them to your doctor immediately.
Calluses, corns and warts: these should be treated by foot care professionals only. Be sure to discuss treatment with your doctor.
Changes in the quality of your toenails: are they discoloured, thickened or ingrown? Be sure to talk to your doctor if you have any concerns.
Visiting your healthcare team to assess your feet
It is very common to feel intimidated when going to your doctor for foot-related issues. However, by preparing yourself in advance, you will be able to make the most of your appointment time.
Ask your doctor these three key questions:
What is my main problem?
What do I need to do about it?
Why is it important for me to do this?
If you don't understand anything that your doctor is explaining to you, don't hesitate to ask for clarification, and get him/her to repeat the information. Foot issues can be complex, and it can be difficult to appreciate and absorb large amounts of information. Take the time to make sure you understand everything you're being told.
Always remember that you are the most important member of your foot care team! Even if you are nervous or worried, be sure to describe your concerns clearly and fully, and show the doctor any changes or signs of injury you may have seen on your feet.
You may feel more confident if you bring a trusted relative or friend with you to your foot care appointment. Another person may think of additional helpful questions, and can also help you remember everything that was explained to you.