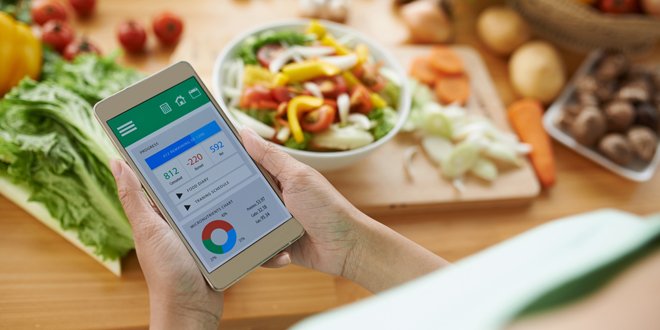 Living with diabetes requires ongoing decision-making. Using an app can improve both your health and your self-confidence. But with so many food apps available, how do you choose? Read on to learn more about food apps for people with diabetes.
What types of food apps are available?
Apps can help with carb counting, which is an important component of diabetes management, especially for those who take insulin. Most apps offer a simple way to look up the carbohydrate value of a food quickly.
Apps can also be used to track daily food intake. Sharing these records with your diabetes healthcare team can provide valuable information that can assist with making a plan for your diabetes management. Keeping track of what we eat for a short period of time can help us gain some insight into our habits and learn about the food we eat. If this leads to making healthy changes to the way we eat, that's a fantastic outcome!
Are there any downsides to using food apps?
Sometimes tracking food leads to obsessing about numbers. Suddenly you feel guilty about eating a slice of cake at a birthday party because it pushed you over your allotted calorie amount. This can lead to feelings of shame. Tracking food can actually lead us to be less in tune with our body, and it can take the pleasure out of food.
For some, tracking food is a valuable tool. For others it has a negative effect on mental health. Work with a registered dietitian to find a strategy that allows you to meet your health goals and still enjoy your food.
Some basic considerations
There are no guarantees regarding the accuracy of nutrition apps, especially if users are able to enter data.
Nutrition Facts labels and restaurant websites will always be the best resource for nutrition information.
Some apps have a barcode scanning feature. If the nutrition label is available, there is no need for barcode scanning. Barcode scanning will make it quicker to track packaged foods. Ideally, we are eating fewer packaged foods, making the barcode scanning feature less important.
A community support component can allow users to share success stories and get tips, recipes and more. But it can also allow the sharing of misinformation.
Which food apps can be recommended for people with diabetes?
The table below lists some popular apps recommended by diabetes educators. They were chosen with the following characteristics in mind: effectiveness, functionality, ease of use and credibility.
Calorie King (Apple & Android)
Free, with in-app purchases
Details
Provides a quick reference for searching a comprehensive database of food items.
Many users consider it the fastest and easiest app for entering foods.
Serving sizes are easy to adjust.
Allows barcode scanning.
The calorie counter is only available for Apple devices.
Figwee Portion Explorer (Apple & Android)
Free, with in-app purchases
Details
Simple, photo-based app, which gives visual representations of portion sizes, with corresponding nutritional information.
Users adjust photos to change food quantity. As the portion size is adjusted, the nutrition information adjusts along with it.
Nutrition information comes from either the USDA food database or the manufacturer's label, thereby ensuring accuracy.
Paid upgrades are required to track food intake and allow customized food entries.
MyFitnessPal (Apple & Android)
Free, with in-app purchase
Details
Although it boasts one of the largest databases, it is cluttered. Much of the food data is entered by users and may not be accurate. There may also be multiple conflicting entries for the same product. "Verified" food entries will be more accurate.
Can be used for tracking food and activity.
Some users report that serving sizes can be difficult to adjust.
Has a recipe analyzer, which is helpful for including meals made from scratch.
Has a barcode scanner, but users have reported that this feature is slightly unpredictable.
Can sync to more than 50 other apps and services.
Offers community support.
Fooducate (Apple & Android)
Free
Details
Allows for tracking food intake and activity in a way that is simple and easy to navigate.
Food can be manually entered or scanned with the barcode.
Reports if a food contains less healthy ingredients, such as added sugars or trans fats.
Describes the quality of the food and gives the food a grade. If the item has a low food grade, the app gives suggestions for healthier alternatives.
The focus is healthy eating, rather than just calorie counting and dieting. However, not everyone agrees on what the app deems as "healthy".
Users need to upgrade to the premium Pro version to access carb and nutrition information.
Some functionality glitches have been reported on Android.
Calorie Counter by FatSecret (Apple & Android)

Free
Details
Some people may be put off by the name FatSecret. Although the name may seem negative, it was intended to reflect the idea that sharing nutritional information shouldn't be a "big fat secret."
Allows for tracking activity and food intake (by searching, using a barcode scanner, manually entering or snapping a photo).
Easy to use and has a large food database.
Customized for Canadian foods and brands. Although foods can be submitted by users (highlighted), many dietitians have found the nutrition information to be more accurate than other apps.
Some users may be intimidated by the site's many features or find the site cluttered and confusing.
Many similar apps require in-app purchases to unlock comparable features, but the FatSecret calorie counter offers everything for free.
Many more apps are sure to come. Each one will be unique and helpful for different individuals. Chat with your diabetes healthcare team to see which one(s) might be best suited for you.