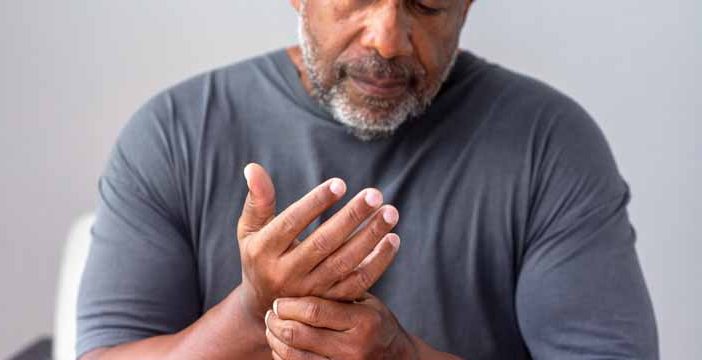 Before learning about the link between diabetes and arthritis, it is important to understand a bit about arthritis itself.
What are the different types of arthritis?
There are many types of arthritis, but the two most common ones are osteoarthritis (which involves wear and tear on cartilage and joints) and rheumatoid arthritis (an autoimmune disease).
Less common forms of arthritis include psoriatic arthritis (which affects some people who have psoriasis), fibromyalgia (a chronic condition that causes pain throughout the body, especially in the joints) and gout (a form of arthritis that causes a buildup of uric acid in the joints).
What causes arthritis?
Osteoarthritis is caused by inflammation, breakdown and loss of cartilage in the joints, most commonly in the arms and legs. Some people are genetically susceptible to osteoarthritis (i.e. they inherit bone or cartilage abnormalities from their parents). However, one of the most common causes of osteoarthritis is being overweight, which puts additional pressure on the hips and knees. Repetitive movements or injuries to joints (such as a fracture or surgery) can also cause osteoarthritis.
Rheumatoid arthritis is an autoimmune disease that happens when the body's immune system attacks the lining of the membranes that surround the joints (this lining is called the "synovium"). This in turns causes the tissues that line the inside of the joints to thicken, resulting in swelling and pain in and around the joints. Researchers don't know why some people get rheumatoid arthritis; however, it is believed that family history may play a role.
What are the symptoms of arthritis?
The common symptoms of osteoarthritis include:
Pain and tenderness in the joints
Joint stiffness, especially after waking in the morning or after a period of inactivity
Loss of flexibility, such that it's difficult to move the joint through its full range of motion
Bone spurs (extra bits of bone that feel like hard lumps), which form around the affected joint
The common symptoms of rheumatoid arthritis include:
Tender, warm and swollen joints
Joint stiffness, which is usually worse in the mornings and after a period of inactivity
Fatigue
Fever
Loss of appetite
How is arthritis treated?
Osteoarthritis
The joint damage caused by osteoarthritis cannot be reversed, but symptoms can usually be well-managed with lifestyle changes, including maintaining a healthy weight (or losing weight, if needed). Some medications that relieve pain and inflammation, called NSAIDs (nonsteroidal anti-inflammatory drugs), have also proven to be effective. These include ibuprofen (e.g. Advil) and naproxen (e.g. Aleve). Acetaminophen (e.g. Tylenol) is another medication option which can be used for mild to moderate pain.
Exercise is recommended for people with osteoarthritis. Aerobic exercises (such as walking, swimming and cycling) help improve your heart and lung function, and can reduce feelings of fatigue. Strength-training exercises (such as lifting weights or working with resistance bands) help maintain and improve muscle strength. Stronger muscles can better support and protect joints.
Rheumatoid arthritis
There is no cure for rheumatoid arthritis. However, many studies have shown that a reduction in joint pain and damage is more likely when treatment with medications begins early after the disease is diagnosed. Some of these treatments include NSAIDs, corticosteroid medications (such as prednisone), disease-modifying antirheumatic drugs (such as methotrexate) and a new class of drugs known as biologics. These medications are genetically engineered proteins made from human genes, which target specific parts of the immune system that cause inflammation. People with rheumatoid arthritis are treated by a healthcare specialist called a rheumatologist, who can help them make the right medication choices for their condition.
Exercise is recommended for people with rheumatoid arthritis, as it can help reduce painful symptoms, improve joint function and flexibility, and increase range of motion. Low-impact exercises – such as stretching, walking, yoga or swimming – are all excellent options.
What is the link between diabetes and arthritis?
Depending on the type of diabetes you have, you may be at higher risk for arthritis than the general population:
People with type 2 diabetes have a higher risk for osteoarthritis. This is thought to be because being overweight or obese increases the risk of type 2 diabetes as well as osteoarthritis.
People with type 1 diabetes have a higher risk for rheumatoid arthritis. Both of these are autoimmune diseases, and some research has suggested that certain genes may increase the risk of both conditions.
Comparing the two most common types of arthritis
Type of arthritis
Osteoarthritis
Rheumatoid arthritis
Causes / Risk factors
·       Genetic susceptibility/family history

·       Being overweight

·       Repetitive movements or injuries to joints

·       Genetic susceptibility/family history

·       The body's immune system attacks the lining of the membranes that surround the joints

Signs and symptoms
·       Pain and tenderness in the joints

·       Joint stiffness

·       Loss of flexibility

·       Bone spurs

·       Tender, warm and swollen joints

·       Joint stiffness

·       Fatigue

·       Fever

·       Loss of appetite

Treatments
·       Lifestyle changes , including physical activity and maintaining a healthy weight (or losing weight, if needed)

·       NSAIDs, such as ibuprofen and naproxen

·       Acetaminophen

·       NSAIDs

·       Corticosteroids

·       Disease-modifying antirheumatic drugs

·       Biologic agents