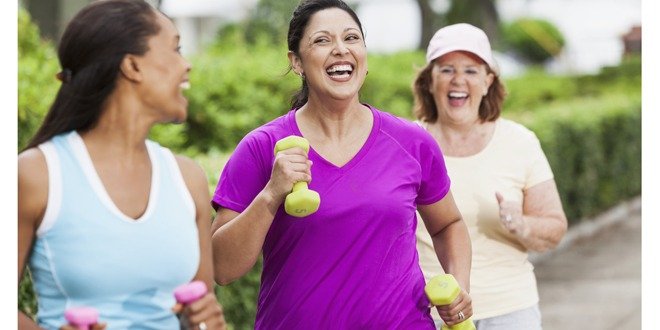 Regular physical activity is important for everyone, and particularly helps those with pre-diabetes and type 2 diabetes . In addition to overall health benefits and blood pressure control, exercise can improve the body's sensitivity to insulin, helping with blood glucose level management. So how much exercise is needed?
Before increasing physical activity levels, it's always smart to get the doctor's OK. People with type 2 diabetes can then follow the Canadian Physical Activity Guidelines of 150 minutes of moderate-to-vigorous-intensity aerobic physical activity per week. This can be done in bouts of 10 minutes or more. Spread over 7 days, that really isn't too overwhelming: just over 20 minutes a day. Start slowly and build up to the recommended target.
It's also recommended that resistance exercise such as weight training be added to increase muscle and bone strength at least 2-3 times per week.  For more information see our expert blog Time and type of exercise.
If you have type 1 diabetes, the effects of exercise on blood glucose levels are a little more complicated and need to be carefully monitored. Your diabetes healthcare team should be consulted.
Any amount of exercise you can incorporate into your day is better than none.  Every little bit helps, whether you take a short walk after dinner each day, take the stairs at work, or park farther away at the shopping mall. As you take small steps towards your targets, you will see that you can begin to get closer to your goal and you will start to receive the benefits that a regular exercise plan can provide.