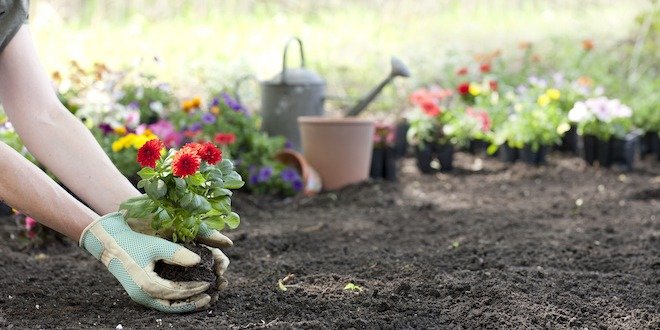 Gardening is a great way of keeping fit and getting your yard in shape at the same time. Gardening for exercise rates right up there with other moderate to strenuous forms of exercise, like walking and bicycling. Without even noticing, you are also working all the major muscle groups: legs, buttocks, arms, shoulders, neck, back and abdomen. Turning the compost pile and pulling weeds, digging, lifting bags of mulch and shovelling all work the upper body muscles, while pushing the lawnmower or wheelbarrow provides a great cardiovascular workout!
In terms of physical activity, the best part about gardening is that if you enjoy yard work at all, you aren't watching the clock or counting down the minutes until you're done (the way that many people do while they are on a treadmill). You can easily spend a whole afternoon or an entire day working outside, without feeling as though you are putting yourself through a physically grueling workout. Finding physical activities that you enjoy is key to maintaining your fitness level and a healthy weight; gardening is a perfect example of that scenario for many people.
Gardening is as good as structured exercise in reducing heart attack risk
Researchers from The Swedish School of Sport and Health Sciences used a cohort study of more than 4,200 Stockholm residents aged 60 and over. The results of the study, which tracked participants' cardiovascular health for around 12.5 years, were published online in the British Journal of Sports Medicine. Their findings showed that keeping active through gardening can reduce the risk of heart attack or stroke by up to 30%.
S.M.A.R.T. gardening tips
To help you have a healthy and active gardening season, the Canadian Physiotherapy Association recommends that gardeners take the S.M.A.R.T. approach (stretch, move, add it up, reduce strain and talk to a physiotherapist. To learn more, visit the Association's website.
Stretch – before, during and after gardening
Stretching – whether as a warm-up, a break during repetitive movement or as a cool-down – helps you to move easily, keeps your muscles flexible and relaxed, keeps your joints mobile, and relieves tension and strain.
Move – today for tomorrow
Gardening is an excellent way to get your whole body in motion. Section off your garden to find your "easy zone" – one that permits your body to work in a comfortable posture – and try to do your work within this zone.
Engaging in activity outside of your "easy zone" may cause sprains and strains, so avoid "out of zone" postures by moving with your work. That means keeping your work in front of and close to your body, to avoid reaching and twisting. Always remember to lift with your knees bent, keeping your back straight. 
Add it up – an hour is power
To gain mobility, plan activities throughout the day that keep you moving for least 10 minutes at a time. To maintain your mobility, make every movement count. Add up all you do in a day and aim for a minimum of 60 minutes of movement every day.
Be realistic! Your body can only perform at the level of effort and endurance to which it is accustomed. For maximum benefit, physiotherapists recommend regular physical activity and stretching to maintain your physical mobility throughout the year. Some easy tips for optimal mobility include:
Work within your physical strength. If you have to hold your breath and are straining and shaking to lift an object, then you know it is too heavy and you risk injury.
Pace yourself! Take a break, spread tasks over a period of time and take time to recover between projects.
Rotate tasks. Avoid over-use injuries by doing different activities throughout the day to reduce strain on major muscle groups and joints.
Reduce strain – use tools that work for you
Gardening tools and equipment are meant to ease work, not cause additional strain. Take the proper measures to fit the tools to you, not you to the tools. Some easy tips for easing strain include:
Keeping your supplies within easy reach; consider using an apron with pockets.
Using tools to reduce work, for example, a wheelbarrow to transport supplies, an extended handle to reduce reach, and tools with good grips or ergonomic handles. 
Talk to a physiotherapist
Have your healthcare professional refer you to a physiotherapist, if needed. Physiotherapists are able to help you to increase your mobility, relieve pain, build strength and improve balance and cardiovascular function. Physiotherapists not only treat injuries, they also teach you how to prevent the onset of pain or injury that can limit your activity.
"Gardening is medicine that does not need a prescription." – Author unknown