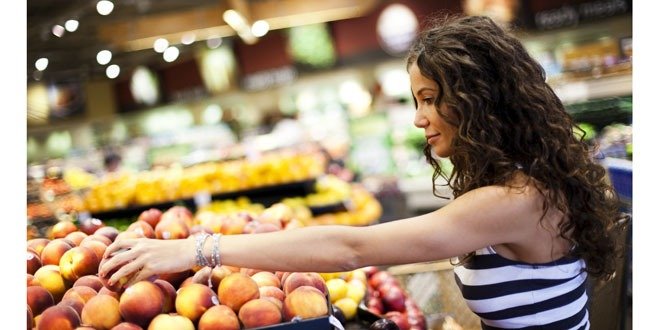 You may be familiar with the advice that, when grocery shopping, it's best to shop the perimeter of the store where fresh foods such as fruits, vegetables, milk products, meat and fish are usually found. This article will focus navigating the grocery store for fruits. For people with diabetes, it's a common myth that certain foods – such as fruits – should be avoided, because they taste sweet. Fruits do contain carbohydrates; however, they are also low in fat and sodium, and contain plenty of vitamins, minerals and fibre.
While some fruits contain more sugar than others, that doesn't mean you shouldn't eat them if you have diabetes. However, when shopping in the fruit section, there are a few tips that will help you make the healthiest and best choices for managing blood sugar levels and diabetes.
To begin with, make sure that a variety of fruits are on your grocery list. It's common to forget to include fresh produce on our shopping list, or at best our list might just say "fruits." Be more specific by including fruits that are in season, on special, and offer a variety of textures and flavours. A little planning can make shopping the fruit section easier and less expensive. Start your fruit shopping before leaving home by looking at your local grocery store's weekly specials. Buying fruit on sale saves money, but don't buy fruit just because it's on special. Consider carefully your likes and dislikes, and consider how much fruit will are likely to eat in a relatively short period of time; fresh fruit has a short shelf life and could end up spoiling before it gets used up.
Be adventurous and try a fruit or two that you are not as familiar with. Having a piece of fresh fruit or fruit salad for dessert is a great way to satisfy your sweet tooth. As well, introducing a new, less familiar, fruit to your menu may make it even more appealing.
In general, different fruits affect blood sugar in different ways, since some fruits are more dense and carbohydrate-heavy than others that are less dense and have a higher water content. A typical serving of fruit should contain 15 grams of carbohydrate. The size of the serving depends on the fruit and its carbohydrate content. Eating a low-carbohydrate fruit means you can consume a larger portion to get 15 grams of carbohydrates. For example, 2 cups of strawberries will yield the same amount of carbohydrate as ½ cup mango.
Here are a few examples of fruit servings that contain about 15 grams of carbohydrate:
1 small banana
½ cup mango pieces
1 medium-sized orange
1 cup cubed watermelon
2 cups whole strawberries
Most fruits have a low glycemic index, which means they won't raise your blood sugar as high as foods with an equal amount of carbohydrate and a high glycemic index (such as sugar or white bread). You may be interested to learn that fruits that are barely ripe have a lower glycemic index than overly ripe fruits, which have higher sugar content and a higher glycemic index.
Tropical fruits, such as mango, papaya, pineapple, and cantaloupe, tend to have higher glycemic index values than temperate fruits, such as apples and oranges. However, even the higher glycemic index fruits are good choices since, overall, their glycemic index is still relatively low.
Check out your local grocery store flyer for specials and head to the fruit section of the grocery store to discover wholesome fruits with the many shapes, textures and flavours that nature has to offer.
To learn about other healthier choices while food shopping, check out Navigating the grocery store expert blogs by Dietitian and Certified Diabetes Educator, Joanne Lewis.