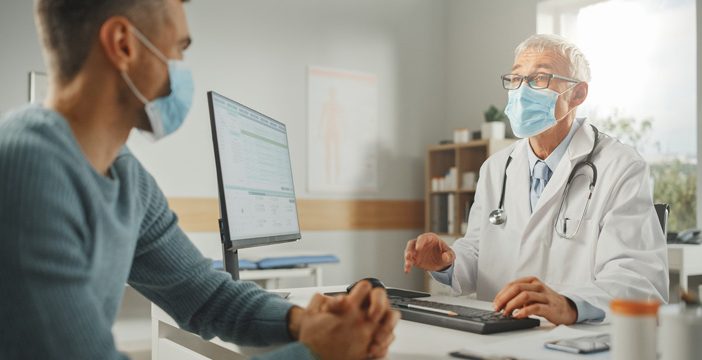 Are you wondering, do I have diabetes? The reality is, anyone can develop this disease. That's why it's so important to be aware of signs and symptoms that may signal diabetes and get tested for a proper diagnosis. Here are some key ways to check if you have diabetes or may be at risk for developing it in the future.
What are the signs and symptoms to watch out for?
Symptoms of type 1 diabetes tend to appear out of the blue, while those of type 2 ,or prediabetes can come on more gradually.
Typical signs of either are:
increased thirst
frequent urination
fatigue/lack of energy
blurred vision
Be aware of changes in your body and speak to your doctor if you have any concerns.
Keep in mind that sometimes there are no symptoms at all. Many people have had type 2 diabetes for several years by the time they are diagnosed. If you carry excess weight around your middle, have a family history of diabetes, are over 40 years of age or are of Aboriginal, African, Asian, Hispanic or South Asian descent, you are also at increased risk of developing type 2 diabetes.
What kind of tests do I need for a diagnosis?
Your doctor will determine the kind of blood test needed, depending on your symptoms and/or other risk factors (e.g., age, weight, ethnicity, family history). Here are the most common tests used to diagnose diabetes:
An HbA1c test (A1C) is the most common one used to test for type 2 diabetes. It involves drawing a small amount of blood to determine your average blood-sugar levels for the last two to three months.
A random blood glucose test is sometimes taken if you already have severe symptoms. Your blood sugar levels are tested via a finger-prick or from a vein in the arm. Any finger-prick test will still need to be confirmed by a standard blood test.
A fasting blood test or plasma glucose test is another way to diagnose diabetes. A blood sample is drawn through your vein and you'll need to refrain from eating or drinking anything for at least eight hours beforehand. For this reason, taking the test first thing in the morning after fasting is often the best option.
A glucose tolerance test (also called an oral glucose tolerance test) is often used to diagnose gestational diabetes. It requires a fasting blood glucose test first, then another blood test several hours after you've consumed a sugary drink. This process will determine if your body has trouble properly processing sugar.
A urine test is used if you're suspected of having type 1 diabetes, as it can signal the presence of a by-product, called ketones, produced when muscles and fat tissue are used for energy instead of sugar.
You can also talk to your pharmacist or physician about a diabetes screening test, which involves answering a series of questions to determine your risk of developing the disease. If you are at risk, the next step will still be a blood test to provide a diagnosis.
How long does it take to get results?
Timing will depend on what test you were given, but generally it takes a few days to get results. Random blood tests will show results right away, but a positive diagnosis will still need to be confirmed by a blood test sent to a lab for results, which can take several days.
What will the test results indicate?
Your test may show high levels of blood sugar, but still not high enough for a diabetes diagnosis. This means you have prediabetes. Although not everyone with prediabetes will develop type 2 diabetes, many people will. Learn how to reduce your risk of developing diabetes here.
The following test result values indicate a diagnosis of diabetes or prediabetes.
A1C
6.5% or higher = diabetes (this test should not be used in those with suspected type 1 diabetes)
6.0% – 6.4% = prediabetes.
Fasting blood sugar
7 mmol/L or higher = diabetes
6.1 to 6.9 mmol/L = prediabetes
Random blood sugar (meaning it can be done at any time of day, without regard to the time of your last meal)
11.1 mmol/L or higher = diabetes
This will need to be confirmed with another blood test.
Oral glucose tolerance test
11.1 mmol/L or higher = diabetes
7.8-11.0 mmol/L or higher = prediabetes
As mentioned above, your doctor may do multiple tests to determine a diabetes diagnosis and the type of diabetes you have. Regardless of the outcomes, your healthcare providers can support you in developing strategies and finding resources to manage your condition or prevent it from progressing.
Can I do a test at home?
Home-testing kits bought over-the-counter at the pharmacy or online, are not a reliable way to test for diabetes. They will only show your blood sugar levels at the moment you test. Instead, for a proper diagnosis, talk to your physician about accurate testing for diabetes.
Who can I talk to about the results?  
Hearing you have prediabetes or diabetes can be overwhelming, but your diabetes healthcare team is there to help. Your doctor, pharmacist and other members of the team can provide guidance on the right treatment and supports needed to manage your disease—and live a healthy life.
Remember, if you suspect you have diabetes or are at risk of developing it, speak to your physician to get a proper diagnosis. Armed with the right information, you can make a solid plan to get on a healthier track.