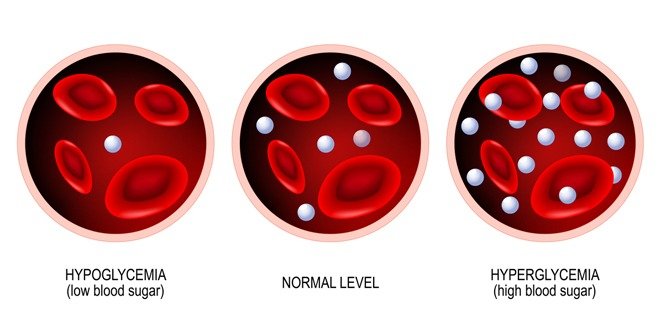 What is hypoglycemia?
If you are caring for a loved one with diabetes, it's important that you know how to recognize and manage low blood sugar levels (this is known as hypoglycemia). Hypoglycemia occurs when blood glucose levels fall below a person's target range (less than 4.0 mmol/L). Severe hypoglycemia is defined as blood sugar levels that are less than 2.8 mmol/L.
What causes hypoglycemia?
A number of things can cause people with diabetes to have hypoglycemia, including:
Exercising more than usual
Not eating on time, or eating less food than they should have
Taking too much medication
Drinking alcohol
What are the symptoms of hypoglycemia?
It's important that you recognize the symptoms of hypoglycemia in your loved one, so that you can help them take action, if needed. Common symptoms include:
Feeling shaky, light-headed, headachy or nauseous
Feeling nervous, irritable, anxious or confused
An inability to concentrate
Feeling hungry
A fast heart rate
Feeling sweaty, weak or drowsy
Having numbness or tingling on the tongue or lips
How is mild to moderate hypoglycemia treated?
People who experience mild to moderate hypoglycemia should ingest 15 grams of a fast-acting carbohydrate, wait 15 minutes and then test their blood sugar level again. If it is still below 4 mmol/L, another 15 grams of fast-acting carbohydrate should be taken.
Glucose tablets are the preferred choice for treating hypoglycemia; they can be purchased at any pharmacy. Other treatments that contain 15 grams of fast-acting carbohydrates include:
1 tablespoon or three packets (3 teaspoons) of table sugar dissolved in water
175 mL (¾ cup) of fruit juice or a regular (not diet) soft drink
Six LifeSavers®
One tablespoon of honey (not recommended for children less than 1 year old)
It's a good idea for you to have sources of fast-acting carbohydrate with you at all times. A roll of Life Savers® or a few sugar packets can be carried easily in a purse or bag, where they can be accessed quickly and easily.
How is severe hypoglycemia treated?
In the case of severe hypoglycemia, people with diabetes are unable to treat themselves; in many cases, severe hypoglycemia leads to loss of consciousness. The treatment for severe hypoglycemia is an injection of glucagon, which must be administered by another person.
It's important that you learn how to administer glucagon in the event of a low blood sugar emergency. Family and friends need to know where to find the kit, and need to be taught how to use it before an emergency occurs. Ask your loved one's healthcare team to teach you how to administer glucagon, so that you will always be prepared.
A glucagon kit has two components: a syringe that contains a liquid and a bottle that contains the medicine in a powder form. The syringe with liquid is inserted into the bottle of medicine, and the contents are mixed and then drawn up back into the syringe. Giving a glucagon shot is just like administering insulin, and can be injected into the buttock, upper arm or thigh. Once you administer the glucagon to your loved one, call 911 immediately.
Knowing the signs and symptoms of low blood sugar – and how to avoid and manage it – will help ensure that your loved one won't suffer the consequences.