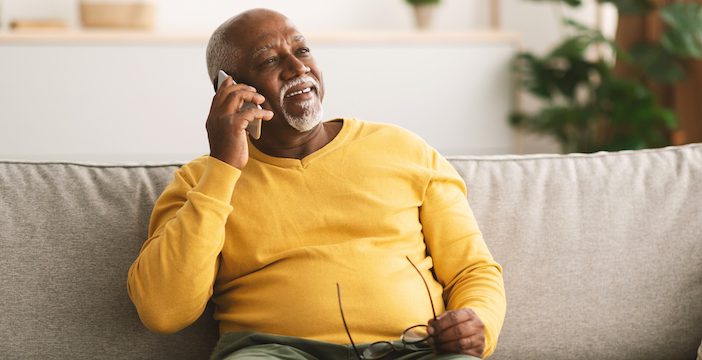 The percentage of Canadians with diabetes doubles between the ages of 45 – 65. As the baby boomer generation ages, this is leading to a dramatic increase in the number of older Canadians with diabetes, and an increasing need for many of us to provide support for older family members. This is a particular challenge when family members are not close by. Here are some helpful tips to keep in mind about long-distance caregiving, whether you are living in another town or in another province.
Be realistic about your role
Accept it… you can't be there in person all the time. Determine the areas where you can provide support from afar, and aim to find local solutions to fill in the gaps.
What you may be able to do:
Gather information
Co-ordinate
Set up supports for healthy living
Provide emotional support
Let's look at some of the valuable ways you can help from afar, and consider how to cover the things you realistically can't do.
Gathering information
In an ideal situation, you will start gathering information by email and phone calls even before you pay an in-person visit to the person you are supporting. If you have the facts at hand, you will be able to use your in-person time more effectively.
This information will ideally include:
Consider sourcing general information about diabetes management from websites like this one and Diabetes Canada. The more educated you are, the more valuable your support will be.
Make sure your family member also has access to good information resources. The more they understand about diabetes management, the more likely they are to recognize the benefits and take good care of their health.
Keep a record of all the information you gather – preferably both online and in a hard copy format.
Co-ordinating support
Think of this as setting up the support team. Look for people who can stand in for you, making regular face-to-face check-ups, and providing support. In an ideal world, you will co-ordinate this during an initial visit.
Does your family member have a close friend or member who could keep a regular eye on them? If possible, arrange to meet up and exchange contact info. Are there other people who your family member sees regularly? For example, a trusted cleaner or gardener? A legion or religious group leader? The local pharmacist? Provide your contact information and ask them to please get in touch if they notice any grounds for concern.
Introduce yourself to your family member's health care provider and leave your contact info.
Set up supports for healthy living
It doesn't matter whether you are there in person or hundreds of kilometers away, your family member is ultimately the one who must take control of their diabetes management – you can't do it for them. What you can do is make sure they have the necessary information at hand and have supports in place to encourage healthy living.
During your initial visit, go to the supermarket together and stock up with healthy foods. Discuss ways your family member will meet the physical activity targets, and ask if you can help. Take your family member's lead on this, but some ideas might include arranging for exercise equipment or for membership of a gym or walking group.
Talk about how your family member will organize their medications. You might want to arrange a consultation together with the local pharmacist while you are there to discuss options. For example, if multiple medications are to be taken each day, the pharmacist might be able to organize them in convenient blister packs. 
You will want to feel comfortable that your family member has a good external network, both for diabetes management support and for social companionship. Encourage your family member to take advantage of all the support that is available through the diabetes healthcare team.
Emotional support from a distance
Maintain regular contact via phone, email and text. If your family member is comfortable with it, set up scheduled calls using video chats such as FaceTime or Zoom. Make it clear you are always there with unconditional support through both the good times and the bad.