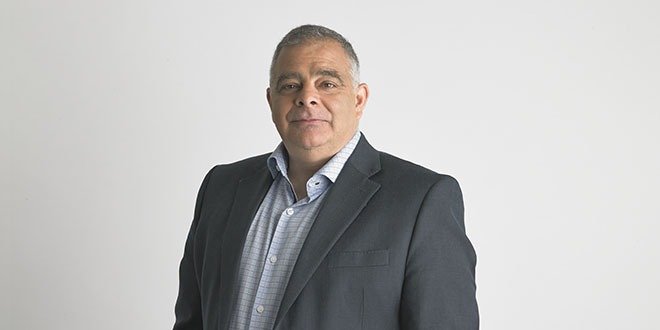 Canadians with type 2 diabetes write back to their younger selves, to share personal insights and reflect on their experience of living with diabetes and starting on insulin therapy. In this post, Mario reflects on living with diabetes.
If there is one thing that has defined Mario for most of his life, it is his dedication to working in the competitive insurance industry. Fiercely athletic in his younger years, playing football, hockey, soccer, rugby and competing in triathlons, sports activities gradually faded from Mario's life as his family grew and career demands intensified.
That environment partly explains why he pretty much ignored a diagnosis of prediabetes at age 46. "I chose to put other things first because I was fearful to admit to having a chronic illness within a corporate environment. I thought there was a stigma attached to having diabetes," explains Mario, now 55. But also, having experienced no serious symptoms, the condition was easy to ignore. He just did not believe it was worth worrying about.
Four years after his diagnosis of prediabetes, Mario went back to the doctor and discovered that he had full-blown diabetes, as well as high blood pressure. This time he made an effort to exercise more, limit sweets and take his medication, which were pills. But his efforts fluctuated.
It wasn't until he was 52, nine years after first being told he was at risk of developing diabetes, that Mario truly grasped the dangers he faced. The first event was his doctor telling him that Mario's kidney function, which had already begun to be impacted by diabetes, had dropped significantly further. Mario felt shock and fear upon realizing how serious his situation was. His elderly mother who was now seriously ill, had been experiencing compromised kidney function and here he was, much younger, facing the same situation.
Whilst waiting for a nephrologist appointment, Mario woke up in the middle of one night and noticed that something was wrong. His hearing felt distant and the sweat was still pouring from him. "The first thing I thought was that I was having a heart attack," recalls Mario.
Mario went into the kitchen, thinking he would take some aspirin and call 911 in there. His testing kit happened to be on the kitchen counter, so he decided to check his blood sugar. It was hovering close to three. So he opened the refrigerator and ate part of a piece of cake. In the next few minutes he tested himself four times and watched his blood sugar rise. "It was quite a scary condition. Slipping into that state, which I now realize was hypoglycemia, was traumatizing," says Mario.
These two developments also made him feel terribly guilty. Disregarding his condition for so long, he acknowledged to himself, was selfish when his family and ailing parents all depended on him.
Mario chose to write to himself at age 43, when he was first told he was at high risk of developing diabetes.
Hey Mario,
When your doctor tells you that you're at risk of diabetes, listen to those words carefully. When you attend the Diabetes Education seminar – listen and heed those words. This is something you can't ignore!
You think you can. After all, you don't feel any different. And being at risk of diabetes is not exactly something you are willing to talk about. You live in a corporate culture where admitting a weakness just isn't done. But here's the problem, Mario. It's like smoking and damaging your lungs. By the time you quit, the damage is done. If you don't manage your blood sugar, the damage is being done, silently. Once you discover the extent of the damage it's too late.
So, do not try to change everything at once – take small steps, incremental steps, to work up to your health goal. When you feel disappointed with your test scores, don't stop measuring sugar levels. You used to enjoy playing sports. Go back to this. Don't worry if you are not the athlete you once were. Find and commit the time to health and balance.
Fear of talking about the disease, so that you are not labelled, will not work so well for you. You need help – you actually need to talk to someone who has gone through this or knows the disease intimately. Find a coach who will keep you inspired, keep you active.
And don't forget to recruit your family to the cause. Empower them to help and support you. You will eventually learn that asking for help and support is a sign of strength and character. You have tried to control too much.
If you're recommended to take insulin, do it. Don't fear the needle and avoid it for such a long time. By the way, the night you wake up in a cold sweat with soaked clothes, check your blood sugar levels right away and avoid the panic attack – it's just hypoglycemia. Hypoglycemia will haunt you every time you work out, change your diet, feel stress or have an infection. But like everything else, it's your new normal. Testing and managing your sugar levels better will help to curb those extreme lows.
Once you begin to take this disease seriously, you will be able to relinquish your stubbornness about doing what you want to do rather than what the doctors and your wife are telling you to do. It will be hard, and there will be many small failures in managing the condition along the way. But small failures are nothing if they bring you the benefit of living healthily and living life to the full overall.
Don't wallow in self-pity. Get over it. Your life depends on it!
Mario  
This story has been edited by Ellyn Spragins and shared with support from Novo Nordisk Canada. The views and opinions expressed are not representative of Novo Nordisk, and should not be considered treatment advice. Novo Nordisk has permission to share this letter and included personal details.