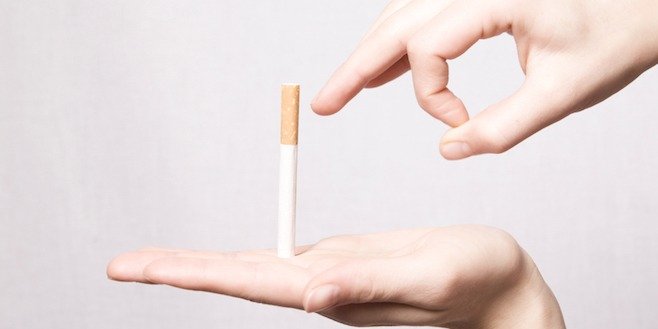 Although smoking is harmful to everyone, people living with diabetes are already at an increased risk of heart disease and stroke, so smoking compounds their risk.
Myth #1:  I've tried so many times to quit and I go back to smoking. I should give up!
Truth: The more often you try to quit, the more likely you will succeed… so don't give up!
Myth #2: I brought this on myself so I should quit by myself… go cold turkey!
Truth: Although some people do succeed by going "cold turkey", studies show that people are more likely to succeed if they use smoking cessation help with medications such as Champix® (varenicline) / Zyban® (bupropion) or nicotine replacement (patches, etc.).
Support by healthcare professionals, friends or family also help, as does having a plan. This includes picking a "start date" and analyzing your "habit" – when and under what circumstances do you smoke?
Myth #3: It's too late for me.  I'm old… I've already had a heart attack
Truth: People who quit after a heart attack reduce their risk of dying by 30% over 5 years, compared to people who continue to smoke.  There is a longer life expectancy by quitting, even if over age 80!
Myth #4:  I like smoking because it relaxes me.
Truth: Smoking does not relax people. It increases blood pressure and pulse and is a stimulant. People feel relaxed when they smoke because they are addicted and whenever an addiction is satisfied (that first puff), the anxiety associated with not having it and seeking it out goes away. Call "relaxation" what it is:  addictive behavior satisfied.
Myth #5:  I smoke "light" cigarettes so that's ok.
Truth: Like jumping from the 44th floor of a building instead of the 45th floor! (Enough said)
Myth #6: I only smoke ½ a pack so I am not that addicted.
Truth: Although the number of cigarettes can be a link to the amount of addiction… take this test. …. How soon after you wake up do you have your first cigarette?
I have one in the middle of the night (I think it is because I am up walking the dog but it because I am very highly addicted)
Within a ½ an hour of getting out of bed…. Very addicted
I don't need one until noon… addicted…
Knowing this in addition to how many cigarettes you smoke can help you decide how much nicotine replacement (patches) you need.  Nicotine levels are the lowest in 24 hours in the morning because people have gone without a cigarette (nicotine) over night, so this drives addictive behaviour.
The person wanting to quit should speak with their pharmacist or physician when picking a patch dose. The following is a guide only.
If you smoke 1 to 10 cigarettes per day:        7 mg patch
11 to 15 cigarettes per day:      14 mg patch
16 to 20 cigarettes per day:      21 mg
20 to 30 cigarettes per day:      28  mg (14 +14)
31 to 40 cigarettes per day:      35 mg  (14 +21)
As you lose the urge to smoke you can decrease the dose of the patch (usually in 4-6 weeks).  If you have "break- through cravings" you can supplement with occasional nicotine lozenges/ gum  (2 mg if you smoke less than 11 cigarettes per day and 4 mg if more).
Myth #7: I shouldn't use patches (nicotine replacement) or medication to help me stop smoking because I am pregnant.
Truth: Smoking is bad for babies. According to Motherisk (Canadian website for medication use in pregnancy www.motherisk.org):
"Behavioural therapy and patient education should be recommended as first-line therapy for smoking cessation. In the event that patients fail to stop smoking or do not respond to behavioural therapy, nicotine replacement or bupropion can be offered after an informed discussion of the benefits and risks of therapy"
There is lots of help out there.
For more information, see DCC's article:
'New year's resolution to quit smoking? Plan ahead to make it stick!'.
Get planning advice and specific things to do to quit from Health Canada's On the road to Quitting – Guide to becoming a non-smoker.
Several provinces also have very helpful programs.  Here are some examples:
British Columbia
1-877-455-2233

Alberta
1-866-710-7848

Ontario
http://www.mhp.gov.on.ca/en/smoke-free/quit-smoking.asp
Saskatchewan
Prince Edward Island
http://www.healthpei.ca/index.php3?number=1020548&lang=E

Provincial Smokers' Helplines are also available in some areas. For more information, check out the following website: smokershelpline.ca
Telephone numbers include:
Newfoundland & Labrador Smokers' Helpline: 1-800-363-5864
New Brunswick, PEI and Nova Scotia: 1-877-513-5333