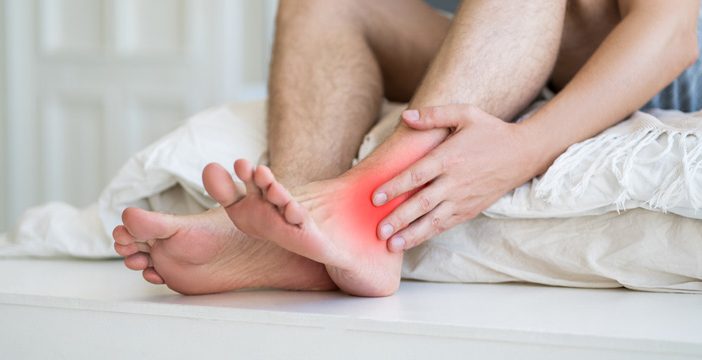 Charcot joint is a relatively uncommon but devastating complication in people with diabetes who also have neuropathy (nerve damage). It usually presents as a painless, red and swollen joint in the foot or ankle that will go on to collapse and become deformed. Prevention and early recognition of the cascade of events that can lead to this outcome is critical.
What is a Charcot joint?
A Charcot joint, also known as neuropathic arthropathy, happens when a weight-bearing joint shows progressive collapsing of the bone, leading to deformity.
Why is it so serious?
Once a joint is deformed and cannot support the individual properly, it can lead to uneven wearing. This in turn can cause skin ulceration and skin and bone infection, which can lead to amputation.
Who is at risk of Charcot joint?
Anyone who has neuropathy is at risk. This can happen in people living with diabetes but also in those who have other causes of neuropathy.
How does it happen?
Because the joint doesn't have sensation, the person is often unaware of the damage that is happening. It may be a repeated microtrauma (an injury caused by repetitive stress), or a sprain or fracture that goes undetected due to the loss of sensation. The foot usually appears swollen, warm or red. Diagnosis and treatment are sometimes delayed as other diagnoses are explored.
How does Charcot joint progress?
From the initial event of being unable to feel, then a fracture or sprain, the foot begins to wear unevenly, and the bones may start to crumble. Along the way, the foot becomes misshapen and swollen. The classic deformity is a mid-foot collapse, which is known as a "rocker bottom" deformity due to the rounded shape of the bottom of the foot. If not treated early, weight-bearing on a deformed foot can lead to continued collapse and can also cause ulceration of the skin and an entry point for infection.
This can all feel painless to the individual, or only mildly painful, and they may be unaware of what is happening. Skin infection can progress to a bone infection. Again, this can go unnoticed as the foot may not hurt and the redness was already there from the initial Charcot joint. This leads to further destruction of the bones and can also spread to infect other places in the body.
The exact cause of a Charcot joint is not well understood. It is thought that microtrauma may lead to the release of inflammatory compounds that cause the bones to break down and then become weaker and collapse. Interestingly, it often occurs in people who have adequate blood supply to the legs and feet.
How is Charcot joint diagnosed?
Clinical suspicion is the most important first step in diagnosing this condition. This happens in a person who has peripheral neuropathy. Usually this is quite significant, causing a dense inability to feel from the toes to the mid calf. There is usually redness, warmth and swelling in the foot. Some other diagnoses may need to be ruled out at the same time, such as gout, infection or arthritis. Blood tests, ultrasounds or bone scans that rule out these diagnoses may need to be done.
When other conditions have been ruled out, your healthcare team may order an X-ray of the affected joint. If the X-ray appears normal, then an MRI may be recommended. So, as mentioned, early on the diagnosis may be largely clinical; a red, swollen, warm foot that has no other cause in a person with a dense neuropathy. The plain X-ray may be normal, and the MRI may show some early changes.
How is a Charcot joint treated?
The main treatment is prevention! Preventing neuropathy reduces the chance of developing a Charcot joint. We know in type 1 diabetes there is a strong correlation between elevated blood sugars and neuropathy. So, blood sugars in the close to normal range would delay or prevent nerve damage.
Unfortunately, with type 2 diabetes although there is a correlation, it is not as direct. Some individuals can develop neuropathy despite sugars at target. Other causes of neuropathy that can be avoided include drinking alcohol to excess or nutritional (e.g. vitamin B12) deficiencies.
The other part of prevention is being aware of your feet if you have neuropathy. It is important to inspect your feet carefully every day and check for changes such as redness, warmth, breaks in the skin or ulcers.
Once a Charcot joint is established, the goal is "off loading" the joint to prevent any further trauma. This is done with a special boot, footwear or cast to relieve pressure on the joint. Even crutches or a wheelchair may be needed for a period of time. Sometimes, medications that help build bone are used; these are called bisphosphonates. Treatment of any bony infection that can accompany a Charcot joint is also important.