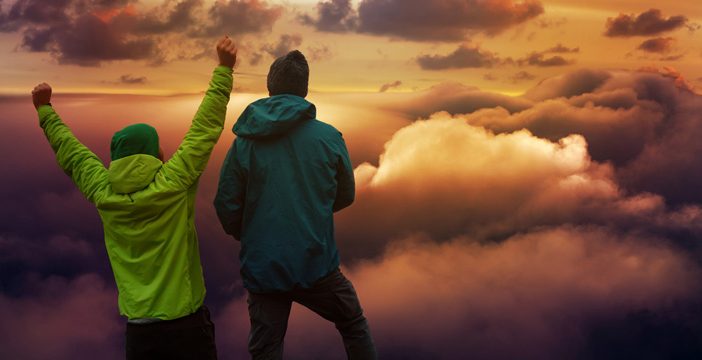 Who doesn't love Eeyore, the beloved pessimistic donkey in Winnie the Pooh? We relate to his sad eyes, downcast view of life and lack of energy. In our last expert blog, you learned about the power of behavioural activation to change your moods and attitude. In this blog, we look deeper into how to shift out of a negative view and awaken optimism. Optimism is a critical factor in living with any chronic illness and, for diabetes care, it is essential.
Optimism is the belief in the possible. There is no question that it is seeing life through rose-coloured glasses. It allows you to see the world and others around you as friends, and yourself as capable. Optimism is a feeling that offers you a positive bias towards yourself, others and your future. Each time one faces a diabetes care moment, an optimistic attitude towards one's care boosts one's willingness to take action with the expectation that what you are doing will help and be effective. By adopting an optimistic perspective, even during challenging diabetes moments, you are more likely to believe that things will work out. That little breath of optimism and hope can ease distress.
Unfortunately, diabetes care more often activates the negative bias side of the brain. What does that mean? The human brain has two chattering aspects to it – the upbeat, positive side and the negative, fear-based side. Diabetes is often about managing blood sugars that are too high, fears about future complications and the uncertainty about whether a dose of insulin will do the trick. The human brain experiences these as threats because of the inevitable uncertainty or future imagined risk. The negative bias is activated over and over again.
Our negative, biased mind is there to protect us. It tells us how difficult, scary and frightening a situation is so that we pay attention to it. Whether you use continuous glucose monitoring or a blood glucose meter the blood sugar level is experienced as a potential threat. For example, when we see a blood sugar of 14.0 mmol/L, the mind tells us, "That is too high" or "Why did that happen?" and most people will feel anxiety and worry. That is the human mind's design in action – the threat has our full attention. That full attention leads us to respond. Unfortunately, the negative biased mind can be too intense, creating daily stress and worry.
Four steps you can take to build optimism
The first step in building optimism is realizing that your negative self-talk about diabetes has hooked you once again and awakened a negative mindset. Thoughts such as, "This won't work, why me, what if I get complications?" are simply a clue that you have been hooked again. Let's be clear: we are not evaluating whether the thoughts are true or false. The issue is whether the thoughts are useful for living a fulfilling life. Put simply, is it a useful thought that can help achieve your goal of living a full, healthy life.
By being aware of the negative mindset of the fearful brain, you can pause and unhook. So, step one is realizing it is inevitable that diabetes awakens the fearful brain at times and hooks you. It's not your fault, your brain is trying to protect you from dangers you can't control. In other words, it is radical acceptance that we are vulnerable beings and diabetes simply reminds us of it more often.
Step two in building optimism is letting go of our stressed state of mind toward diabetes. Since diabetes is a demanding disease with the risk of complications in the future, stress follows. To let go or ease the hold of the negative inner voice, we practice a simple strategy called 'letting go.'
Letting go strategy
While sitting down, close your eyes or lower your eyes. Let the chair hold you and let your shoulders drop.
Follow your in-breath and out-breath, in and out from your belly or your chest. You don't need to do anything.
Focus your attention on your negative thoughts, feelings and bodily tension related to your diabetes worry.
Now, say a three-word phrase over and over again in your mind.
The first word is your first name, and the next two words are 'let g'
You can link the phrase, 'your name and let go' to your in-breath or your out-breath, or not at all. Repeat it over and over again in your mind.
Now do this practice for 120 seconds.
Try it right now. At the end of the strategy, most people describe an opening up or a quieter mind. You now have the opportunity to have a fresh thought or a different attitude.
Step three involves returning to the problem and asking yourself one of the following questions and recording your answers:
How else can I solve it?
If I were hopeful or optimistic, how would I talk to myself about the situation?
What is a more helpful way of looking at the situation?
Step four is to choose the answer to the question that is most useful, and repeat the new thought or perspective that has arisen in that glow of letting go.
The combination of awareness, letting go and a new thought, a new choice or a new way of thinking is the beginning of seeing your diabetes in a more optimistic way.
A new thought may be, "I can solve this." "It doesn't matter why it is happening, three units of insulin will help." or "Just do it." Practice saying the insight to yourself in the moment.