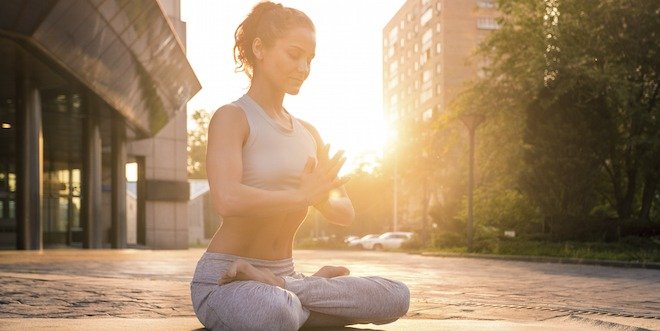 As outlined in previous blogs, there are many benefits obtained from a combination of aerobic and resistance training. So, what does yoga offer that is different? Why are more and more people attracted to this discipline of exercise? What is the science behind yoga?

I discovered a growing body of research that supports the belief that certain yoga techniques may improve physical and mental health through measurable changes in the body's sympathetic nervous system – that is, the one charged with propelling us into action during the "fight or flight" response to stress.
We are living in an age of distraction; an always- "on" culture that is barraged from every direction with social media, text messaging, email, cell phones and TV. Some of these devices were supposed to make us more efficient. In many ways they have, however, they have the power to destroy our ability to focus. Our stress response often lingers in the "on" position at times when it shouldn't. Yoga helps dampen the body's stress response by reducing levels of the hormone cortisol. Cortisol, not only fuels our split-second stress reactions, but it can wreak havoc on the body when one is chronically stressed. So reducing the body's cortisol level is generally considered a good thing.
Yoga also boosts levels of the feel-good brain chemicals like GABA, serotonin, and dopamine that are responsible for feelings of relaxation and content mindedness, and are also responsible for the way the brain processes rewards. All three neurotransmitters are the targets of various mood medications like antidepressants (e.g. SSRIs) and anti-anxiety drugs.
Yoga has another bonus. In addition to suppressing the stress response, yoga actually stimulates the parasympathetic nervous system, which calms us down and restores balance after a major stressor is over. When the parasympathetic nervous system switches on, blood is directed toward endocrine glands, digestive organs, and the lymphatic circulation, while the heart rate and blood pressure are lowered. With parasympathetic activation, the body enters into a state of restoration and healing.
Yoga has also been found to decrease markers of inflammation such as high sensitive C-reactive protein as well as inflammatory cytokines. The body's inflammatory response has been implicated in heart disease, stroke, type 2 diabetes, arthritis and a host of other age-related debilitating diseases. Reducing inflammation may provide substantial short- and long-term health benefits, implying that people can eventually learn to respond less strongly to stressors in their everyday lives by using yoga and other stress-reducing modalities.
Many ancient healing systems emphasize the connection between mind and body in healing. Today, modern scientific research is proving that this age-old tenet of medical wisdom is true. What we think and feel has a powerful influence on our bodies.
If you are using yoga as a therapy in your diabetes control in addition to your treatment prescribed by your health care professionals, rest assured you are on the right track.