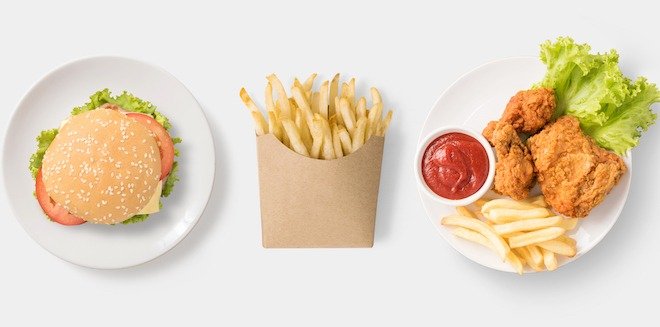 What's the thinking on junk food and diabetes? Let's face it: almost everyone craves junk food at some point! Whether your guilty pleasure is a juicy burger with fries, potato chips or sweets, there's no denying the taste sensation. But before you buy that super-sized meal or family-sized bag of cheese puffs, consider a few important factors.
Junk food just isn't good for you
Most of us know that junk food is unhealthy. It is generally loaded with fats (especially saturated and trans fats, the unhealthiest types), salt, sugar and preservatives.
Junk food also tends to have few vitamins and minerals, and is low in fibre. The low fibre content of junk food causes you to digest it more quickly than fibre-rich foods. This can lead to a number of unhealthy outcomes, including a spike in blood sugar levels and increased LDL cholesterol levels (the "bad" cholesterol). It also means that you won't feel as full, so even after eating junk food you'll be hungry sooner than if you ate a healthier, high-fibre snack.
The consequences of eating junk food on a regular basis include an increased risk of obesity, heart attack, high blood pressure and stroke. Some studies have even shown that regular junk food consumption has been linked to an increased risk for depression.
The 'science' of junk food cravings
There are two main factors that make junk food pleasurable. The first is the actual sensation of eating the food, i.e. how if tastes and feels in your mouth. Food companies spend millions of dollars to determine the most satisfying level of crunch in a potato chip, the perfect softness of a burger bun, or the exact amount of fizz in a soda pop. Factors like these combine to create the pleasing sensation that your brain associates with a particular food or drink.
The second factor is the actual 'macronutrient' composition of the food — the blend of proteins, fats, and carbohydrates that it contains. In the case of junk food, food manufacturers are looking for a perfect combination of salt, sugar, and fat that excites your brain and gets you coming back for more.
Healthy junk food alternatives
So, what are the healthier replacements for junk food in your diet?
If you're looking for healthy snack foods, consider the following:
When you're craving a salty snack, say yes to a handful of healthy nuts (almonds, walnuts or cashews).
For a healthy protein snack, choose peanut butter or low-fat cheese with whole-grain multi-grain crackers.
For a sweet snack, bite into a crisp apple or enjoy a handful of grapes.
When you're at a fast food restaurant, consider the following:
Don't fall into the trap of ordering deluxe or super-sized options because they offer good value. It may save you money, but it doesn't save on calories, sugar or fat.
Avoid fried foods and opt for grilled or broiled meats instead. Choose lean turkey or chicken breast, instead of ground beef.
Watch the condiments: mustard is healthier than mayonnaise, ketchup, or rich sauces.
If it's pizza you want to eat, choose a whole-wheat thin crust topped with veggies, instead of fatty processed meats.
If you really can't curb your craving for junk food, be kind to yourself and indulge every now and then. Just keep portion control in mind, and don't eat it very often.