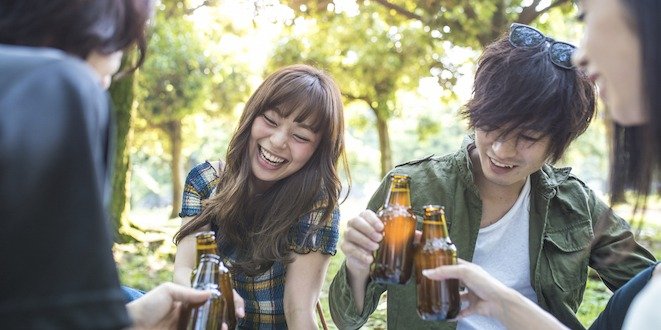 Many people who are diagnosed with diabetes are concerned that their entire lives are about to change. This often includes a fear that they may never again be able to enjoy a glass of wine or a pint of beer.

They ask, is alcohol allowed on a diabetes diet? The simple answer is yes. As long as diabetes targets are being maintained, the alcohol guidelines are the same as for the general population. That is, a maximum of two standard drinks per day and up to 14 a week for men, or nine standard drinks a week for women. Be aware that different types of alcohol affect blood glucose in different ways.
Examples of standard serving sizes
360 ml (12 fl. oz) 5% alcohol beer
150 ml (5 fl. oz) 12% alcohol wine
45 ml (1.5 fl. oz) 40% alcohol spirits/hard liquor
Remember that sweet, fizzy mixers can also impact on blood glucose.
Exceptions to the rule
Just as for the general population, there are exceptions to the overall alcohol guidelines for people with diabetes. Individuals with or without diabetes may be at risk of additional health problems if they have conditions such as liver problems, nerve damage, eye disease, disease of the pancreas or high triglycerides. If the person you support has any of these medical issues, a healthcare professional should be consulted before alcohol is consumed.
Additionally, individuals should not drink alcohol if they:
Are pregnant or trying to get pregnant
Are breastfeeding
Are taking certain medications. Check with your pharmacist about possible interactions with alcohol
Will be driving shortly
Be alert for low blood glucose
For people taking insulin and some other diabetes medications, alcohol can lead to dangerously low blood glucose levels. It is important that you eat regularly, follow your medication schedule and check blood glucose levels frequently. Make sure your glucose levels are checked again before bedtime.
Alcohol can cause delayed low blood glucose levels up to 24 hours after being taken, and some individuals may need to arrange to wake during the night to check blood glucose levels. This should be discussed with the diabetes healthcare team.
Make sure that you always have a treatment for low blood glucose on hand. The preferred option is three (5g) glucose tablets (total of 15g).
It's important to note that glucagon, a treatment for low blood glucose, does not work when alcohol has been taken. This makes it critical to call an emergency number immediately if someone becomes unconscious or shows other signs of severe hypoglycemia after drinking alcohol.
Some individuals may need to take other issues into consideration. For example, alcohol can contribute to weight gain. Additionally, it can be harder to say 'no' to favourite foods after a couple of drinks have been enjoyed. Ask the diabetes healthcare team for their specific advice regarding alcohol and diabetes.