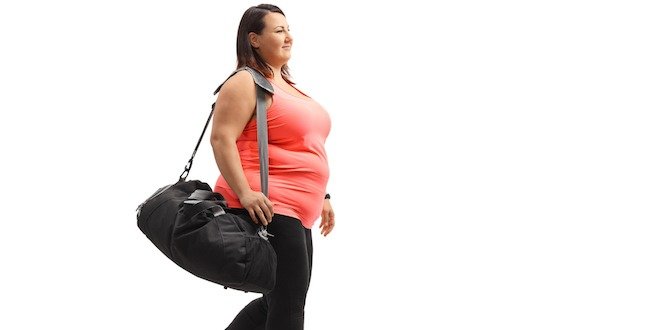 Most people have heard that there is a link between obesity and diabetes. The reality is that being obese or even overweight can increase your chances of developing type 2 diabetes.
According to the Canadian Obesity Network, one in four Canadian adults and one in 10 children have clinical obesity. Research also shows that if you're obese, your chances of developing type 2 diabetes are 80 times greater than those of people whose body mass index (BMI) is within a normal range (under 25).
How does obesity cause diabetes?
Obesity is a well-known factor that increases one's risk of type 2 diabetes – but how? Carrying excess fat, especially around your middle  (abdominal fat) causes cells to release chemicals that increase inflammation. It also disrupts the responsiveness of cells to insulin, which is referred to as insulin resistance. This means our pancreatic beta cells have to work even harder to produce enough insulin to control our blood sugar, and in some cases simply cannot. The combination of increased inflammation and insulin resistance may result in diabetes.
Am I overweight or obese?
A weight that is higher than what is considered to be a healthy weight for a given height is described as overweight or obese. BMI (Body Mass Index) can be used by most adults age 18-65. It is a common screening tool to determine whether you are underweight, at a normal weight, overweight, or obese.
| | |
| --- | --- |
| BMI | Weight Status |
| Below 18.5 | Underweight |
| 18.5 – 24.9 | Normal |
| 25 – 29.9 | Overweight |
| 30 and Above | Obese |
Find out your BMI here.
BMI is an easy screening tool for yourself or a healthcare professional to use. However, it is still important for your healthcare provider to perform an appropriate assessment to determine your overall health and health risks.
How can I prevent obesity and diabetes?
The good news is while we can't control our genetic makeup when it comes to developing diseases like diabetes, there are things under our control to prevent obesity, reduce the risk of diabetes and improve our insulin sensitivity. Regulating our weight, exercising and sticking to a nutritious diet will have a major impact in targeting obesity and reducing the chances of diabetes onset and complications. There are many important healthy lifestyle changes that one can make, including:
1. Diet:
Eating less and moving more sounds like a simple recipe, but the key is to make it a sustaining lifestyle. In an effort to reduce obesity, Canada has been developing a Healthy Eating Strategy. Diabetes Canada has been lobbying the government to get it underway. In fact, for several years, the national association has been urging government to increase taxes on sugar-sweetened beverages. As well, Diabetes Canada has been working help make healthy food more affordable and promote healthy eating among people who are at higher risk of developing diabetes.
2. Exercise:
Exercise is another key element in reducing obesity and preventing diabetes complications. Physical activity increase energy expenditure and can build muscle, which improves blood sugar control. Find out how to measure your exercise intensity here.
Increasing your activity levels and working towards small amounts of weight loss can have a dramatic impact on your likelihood of developing diabetes.
And if you already have diabetes and are overweight, losing 10 pounds or more may help decrease the amount of medication you'll need to keep your blood sugar levels within a healthy range. Find out more about the connection between eating and exercise when you have diabetes here.
3. Stress:
Beyond nutrition and exercise, getting a good handle on stress and sleep are aspects of our lifestyle that can help curb weight gain and diabetes complications.
When we're stressed our levels of insulin, cortisol and inflammatory compounds shoot up. This in turn has been linked to weight gain, insulin resistance and the eventual onset of type 2 diabetes.
While we can't eliminate stress entirely, we can learn to control it through meditation, yoga, dancing and even simply finding outlets to laugh more. Find other ways to manage stress here.
4. Sleep:
Sleeping enough is another way we can reduce blood sugar spikes and carb cravings that lead to overeating. One study showed that even a partial night of poor sleep could induce insulin resistance. [1]
That's why it's important to make sleep a priority and create a bedtime ritual that makes it more conducive to happening. This could include darkening your room and taking a relaxing bath prior to turning in for the night.
While the link between excess pounds and type 2 diabetes is growing more and more concrete, remember that you can do something about it. Maintaining a healthy weight can reduce your chances of developing the disease—and give those with diabetes a better handle on controlling it.