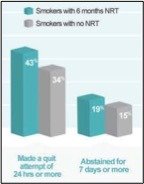 When a patient is diagnosed with hypertension or diabetes, their doctors will tell them, "This is what you have, and this is how we will treat it." However, when a patient smokes, doctors often say, "This has a 50% chance of killing you. Are you ready to quit?" The decision is left to the patient. The time has come to start treating smoking as medical condition that requires evidence-based therapy, regardless of a patient's stated readiness to quit. Tobacco dependence must now be recognized and treated as a chronic disease that necessitates ongoing and persistent treatment efforts.1–4
Out with the old…
The usual approach is to use brief counselling, based on the idea that patients progress gradually through stages of motivation, from not wanting to quit, to thinking about quitting, to preparing to quit, to taking action.5 For physicians, this involves the "5 A's" method:6
Ask about smoking status
Advise to quit
Assess willingness to quit
Assist if willing
Arrange follow-up
… and in with the new
However, it is now believed that physicians should skip directly to the fourth step: offer assistance. It is incumbent upon clinicians to offer assistance to every smoker, during every visit. The issue with waiting for patients to express their motivation to quit is that motivation can be quite volatile, i.e. smokers often quit impulsively, and plans to quit can change rapidly.7–9 In addition, nicotine replacement therapies (NRT) such as Nicorette® and Nicoderm® have recently had their product licenses updated, and can be used with a Reduce-to-Quit® approach for those patients not ready for an abrupt quit.
Tobacco addiction researchers at the University of Vermont surveyed this transition of "intention-to-quit" on a daily basis and found that the process was extremely dynamic – much more so than previously believed. In their study of 115 smokers, 12–17% of smokers changed their intention to quit over a period of 7 days, 15–25% changed over 14 days and 17–34% changed over 30 days. The authors concluded that the intention to quit often spontaneously changes over short periods of time, especially with repeated testing.9
Most smokers want to quit, and make many private and unassisted attempts to do so – many of which fail. Providing cessation aids, such as NRT, can double their chance of success.10–13
The benefits of NRT
Reducing or stopping smoking by supplementing with NRT reduces the symptoms of withdrawal, while gradually tapering the nicotine dose. Quit aids can be used to support Reduce-to-Quit® plans and practice quit attempts, both of which techniques can build confidence and reduce the level of smoking (Figure 1).2,3
Figure 1. Rates of any quit attempt and rates of abstinence2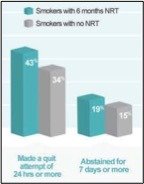 NRT accomplishes more than managing withdrawal, as it takes a great deal of determination and resolve to overcome the inertia of addiction (i.e. the thoughtless, perpetual ritual of smoking). Reducing or stopping smoking altogether through supplementation with NRT products helps patients break the dynamics of their addiction. Since smoking is an enormous momentum, anything that can disrupt that momentum will surely be helpful.
References
Shiffman S. Nicotine replacement therapy increases quit attempts among unmotivated smokers when added to encouragement to practice quitting. Evid Based Med. 2012;17:187–188.
Carpenter MJ, Hughes JR, Gray KM, et al. Nicotine therapy sampling to induce quit attempts among smokers unmotivated to quit: a randomized clinical trial. Arch Intern Med. 2011;171:1901–1907.
Asfar T, Ebbert JO, Klesges RC, et al. Do smoking reduction interventions promote cessation in smokers not ready to quit? Addict Behav. 2011;36:764–768.
Aveyard P, Begh R, Parsons A, et al. Brief opportunistic smoking cessation interventions: a systematic review and meta-analysis to compare advice to quit and offer of assistance. Addiction. 2012;107:1066–1073.
Cancer Prevention Research Center. Transtheoretical Model: Detailed Overview of the Transtheoretical Model of Change. Available at: http://web.uri.edu/cprc/detailed-overview/. Accessed June 14, 2016.
S. Department of Health and Human Services; Agency for Healthcare Research and Quality. Five Major Steps to Intervention (The "5 A's"). Available at: http://www.ahrq.gov/professionals/clinicians-providers/guidelines-recommendations/tobacco/5steps.html. Accessed June 14, 2016.
Larabie LC. To what extent do smokers plan quit attempts? Tob Control. 2005;14:425–428.
West R, Sohal T. "Catastrophic" pathways to smoking cessation: findings from national survey. BMJ. 2006;332:458–460.
Hughes JR, Keely JP, Fagerström KO, et al. Intentions to quit smoking change over short periods of time. Addict Behav. 2005;30:653–662.
Peters EN, Hughes JR. The day-to-day process of stopping or reducing smoking: a prospective study of self-changers. Nicotine Tob Res. 2009 Sep;11(9):1083–1092.
2008 Public Health Service Guideline Update Panel, Liaisons, and Staff. Treating tobacco use and dependence: 2008 update U.S. Public Health Service Clinical Practice Guideline executive summary. Respir Care. 2008;53:1217–1222.
Cummings KM, Hyland A. Impact of nicotine replacement therapy on smoking behavior. Annu Rev Public Health. 2005;26:583–599.
Aveyard P, West R. Managing smoking cessation. BMJ. 2007;335:37-41