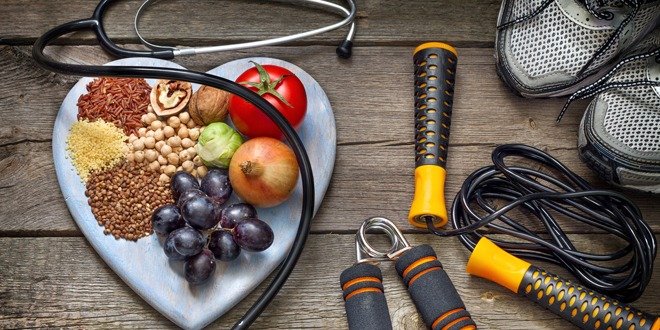 Once you've had a diagnosis of diabetes, there are lots of things you can do every day to control the disease. Here are seven quick tips for controlling type 2 diabetes.
1. Eat healthy foods
A healthy meal plan can help you maintain a normal weight or help you lose weight, if needed. It can also help control your blood sugar levels. Make a plan for healthy meals and snacks each day. Each meal of the day should include the following components: protein, carbohydrate and vegetables. The "plate method" is an excellent way to help you figure out how much of each component you should be eating. Although the natural thinking is to avoid carbohydrates altogether, carbs are actually important for everyone's diet, including people with diabetes. Learn more about carbohydrates here.
2. Get regular exercise
Exercise is great for your body's overall health, and it also helps to lower blood sugar levels. Diabetes Canada's clinical practice guidelines recommend that people with diabetes should perform at least 150 minutes (2-½ hours) of moderate- to vigorous-intensity aerobic exercise each week, and perform resistance exercises three times per week. Picking activities that you really enjoy – and doing them with a workout buddy – will help you stay committed over the long term.
3. Take your medications as prescribed
Whether you are on oral or injectable medications, it's important that you take them exactly as prescribed by your healthcare team. Your medicines are crucial to helping control your blood glucose levels. You should never stop taking your diabetes medications, as they do not "fix" the underlying causes of the disease itself. As a result, medications cannot be stopped without losing the blood glucose control that they were providing.
4. Get tests and lab work done at appropriate intervals
Regular medical tests and checkups that should be a part of your diabetes management include:
Every 3 months: A1C
Every 12 months: cholesterol and other blood fat tests, eye exam by an eye specialist, kidney function test, and foot inspection
Keep track of all of these tests and get reminders with our Health Appointment Monitor in the Tools section of the website.
5. Visit your healthcare team regularly for a diabetes check-up
It is important for all people with diabetes to have an annual check-up with their healthcare team. (Depending on your diabetes control, your healthcare team may recommend more frequent check-ups.) During your diabetes check-up, your healthcare team will:
Review your medication regimens. Be sure to come prepared with a list of all the medication you are taking, including any non-prescription medicines. People with diabetes often take more than one medication, and your healthcare team needs to know your current medication regimen.
Check your feet to make sure that there are no wounds, blisters, or other issues with your feet.
Review your blood glucose log book. Based on your blood glucose patterns, your healthcare team can help you make appropriate changes to your nutrition, physical activity and medication regimens, as needed.
Test your blood pressure.
Review your most recent blood-work laboratory results (for example, A1C and cholesterol levels).
6. Control your stress levels
It's well known that stress and lack of sleep can affect your blood sugar levels. While stress is a part of day-to-day life – whether you have diabetes or not – there are some coping mechanisms you can employ to keep your stress at bay. These include physical activity, relaxation therapy and breathing exercise. Getting a good night's rest (at least six to eight hours of sleep each night) can also help keep your stress levels – and your blood glucose levels – in check.
7. Get support
If you're feeling overwhelmed or stressed, reach out to a trusted confidante. Friends and family members – the people who know you best – can provide generous support when you feel overwhelmed. As well, there are numerous community supports groups – both in person and online – that will allow you to talk to people who are in similar situations. Ask your healthcare team for information about support groups in your community.