Now the summer is at our door step, we all look forward to a bright sunny day to be outside with family and friends.
The sun not only offers us warmth and light, it also enhances people's moods and helps our body to synthesize vitamin D3. When one of the ultra violet (UV) radiations from the sun, UV-B rays hit the skin, a reaction takes place that enables skin cells to manufacture vitamin D, essential for calcium absorption to build healthy bones.
Despite these benefits, overexposure to UV radiation can also have adverse health effects, including sunburn, premature ageing, skin cancers, diseases of the eye, and immune suppression.
How to decide when to use sun protection.
Environment Canada's UV Index is a measure of the intensity of the sun's burning UV rays. The higher the number, the stronger the sun's rays. The scale runs from 1-11 in Canada but may reach 14 or higher in the southern United States and the tropics.
The daily UV Index forecast is a prediction of the maximum UV strength for the day. This peak is usually reached in the early afternoon. UV Index forecasts are widely available between April and September. Your sources include local TV and radio stations and the Environment Canada web site. The following is a guide to help you decide when to use sun protection.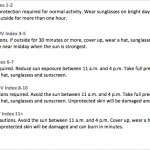 A word on sunscreen
Use a Sun Protection Factor (SPF) 30 or higher broad-spectrum sunscreen & lip balm (protects against UVA & UVB). Don't put sunscreen too close to the eyes. Reapply at least every 2 hours or after swimming or sweating a lot.
Apply a generous amount of sunscreen on all exposed areas 20 minutes before going outside. Ideally, sunscreen should be reapplied 20 minutes after going outdoors so that the product stabilizes on the skin and gives maximum protection.
For babies over 6 months old, sunscreen may be applied to areas of the skin that are not covered by clothing such as the face and the backs of the hands. Avoid the mouth and eye area when applying. If a baby does rub sunscreen in his or her eye, no need to panic: sunscreen does not cause blindness, although it may sting a little.
Be careful with medication
A small percentage of people taking over-the-counter or prescription drugs find that their skin becomes oversensitive to the sun. They can get serious skin damage including sunburn, blisters, rashes or swelling when out in the sun.
An article "Drug-Induced Photosensitivity" was featured in the April 2007 issue of The Institute for Safe Medication Practices (ISMP) USA, and the following is a selective list of agents known to cause photosensitivity.
| | | |
| --- | --- | --- |
| amiodarone | furosemide | phenothiazines |
| amitriptyline | griseofulvin | promethazine |
| barbiturates | haloperidol | quinidine |
| carbamazepine | hydrochlorothiazide | spironolactone |
| captopril | isotretinoin | sulfonamides |
| corticosteroids | methotrexate | sulfonylureas |
| fluoroquinolones(varying degrees) | NSAIDs (varying degrees) | tetracyclines |
If you are taking one of the medications listed above, be sure to use sun protection when you are outdoors.  If you have an unusual reaction, check with your health care provider.
You can also visit the Health Canada website on Sun Safety Basics:
I look forward to hearing your experience/thoughts on sun safety. You can post your comment in the Medication section of our Community Forums.