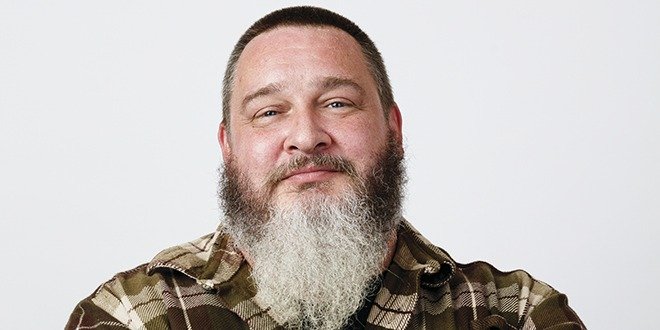 People with type 2 diabetes write back to their younger selves, to share personal insights and reflect on their experience of living with diabetes and starting on insulin therapy.   In this post, Bernard reflects on living with diabetes.
Educated at a private boarding school, Bernard was taught that you need to give everything you have in order to get what you want. What he wanted was to win at everything and be successful. So, as an adult, he was quite driven. "My goals were based on a belief that this was the only way to succeed in life. Being ill was no excuse for not being in the lead," he says.
By the time he was 41, these tenets of success seemed fully verified. He was a production department team manager overseeing a team of 20, and moving ambitiously up the management ladder of a large pharmaceutical manufacturing company. Life was good and he was driving hard to make it better, aiming to become the manager of the development department. His diabetes was well managed through tablets, diet and exercise, and had not significantly changed his life.
But then Bernard began experiencing bouts of pain lasting from a few hours to several days, generally during the night. For about five months he was able to manage the discomfort with painkillers, but one day the pain became unbearable and he was admitted to hospital. The source of the pain was a congenital defect in his pancreas. By the time he returned to work, after a lengthy recovery, he had missed the opportunity to become the development manager. He redoubled his efforts in order to gain other opportunities for advancement. About this time, he added insulin to his former regimen to control his blood sugar. Driven to succeed, Bernard worked late and took additional shifts, sometimes toiling up to 70 hours a week on night and day shifts. He wasn't eating correctly, and certainly did not allow himself enough down time to regenerate.
"I carried on as normal, thinking I was in control." Bernard recalls. "I pushed myself to the breaking point." In 2014 he collapsed at work during a meeting and had to be hospitalised again. Now 48, he is writing to himself after the first hospitalisation, when he was 41.
Dear Bernie
You are feeling great. You have recovered from the health difficulties that left you in hospital (thankfully these weren't related to your diabetes), and you are so 'in control' of your life. You believe you can do anything you want. You're busy climbing the ladder, chasing the dream and enjoying life to the full. There's still that nagging in the back of your mind… but you can block that.
Sure, your doctors told you to cut back, to take things slower, but you don't need to do that. After all, you feel great. Those twinges of pain and numbness are just 'normal' aren't they? Working 12-hour nights is fine, you think. It's getting you ahead, isn't it? It's so hard to give it all up and to slow down. After all you can do anything. Nothing will stop you.
Bernie, it's time to listen. Listen to your doctor, to your family and friends, to your own body. Your doctor and the consultant have both advised you to get enough rest. They told you that increased stress and not managing your diabetes could lead to some serious complications. Your family and friends can all see that you are doing too much and are trying to get you to slow down.
So far you have refused. Inside you are scared of failing, of having to change. Because of the way you were raised, you believe that people have interpreted your diabetes and time off as signs of failure. In your own mind, you're afraid that abandoning your aggressive pace because of your health would amount to failure. Slowing down is the same as being second rate, you believe.
But actually, Bernie, the things you are so afraid of are OK!
Slowing down will not change you but it will save your health. It will save you from becoming a person who is completely unfamiliar to you: from being happy and helpful to being angry and bitter. It will save you from losing several friends.
You don't have to push so hard to obtain what you want. Remember, you can still do anything you want and get the success you so desire. You just have to take a different route.
With best wishes,
Bernie
This story has been edited by Ellyn Spragins and shared with support from Novo Nordisk Canada. The views and opinions expressed are not representative of Novo Nordisk, and should not be considered treatment advice. Novo Nordisk has permission to share this letter and included personal details.