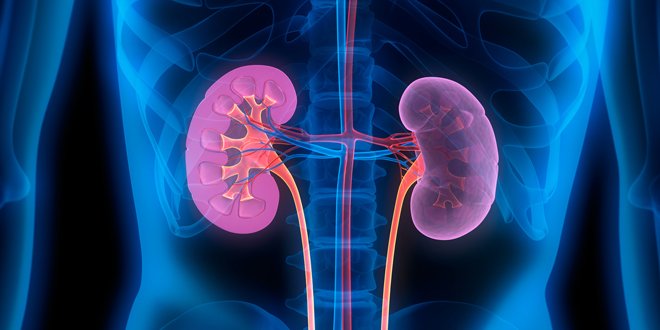 Maintaining kidney health is very important for people with diabetes, as kidney disease is a serious complication of diabetes. Read on to learn more about diabetes and kidney health.
What are kidneys and what do they do?
The kidneys are two bean-shaped organs, each about the size of a fist. They're located just below the rib cage against the back muscles, on the left and right sides of the body.
Kidneys have two very important functions: they help the body pass waste as urine, and they help filter blood before sending it back to the heart. They also:
Help maintain the balance of minerals and electrolytes in the body, such as calcium, sodium, and potassium
Play an essential role in the production of red blood cells
Help maintain the delicate acid-base (pH) balance of the blood
How does kidney disease happen?
Each kidney has about one million tiny filtering units, called nephrons, which contain many blood vessels. Any disease or condition that injures or scars the nephrons and damages their blood vessels can cause kidney disease.
The most common causes of kidney disease are diabetes, hypertension (high blood pressure) and atherosclerosis (hardening of the arteries). Less common causes include:
A genetic disorder called polycystic kidney disease, which causes many cysts to grow in the kidneys
Long-term use of certain drugs that are toxic to the kidneys (for example, pain relievers such as ibuprofen and naproxen)
Autoimmune diseases, such as lupus or rheumatoid arthritis
How does diabetes lead to kidney disease?
People with diabetes who have consistently high blood sugar and high blood pressure levels have an increased risk of developing kidney disease. This is because high blood sugar and high blood pressure levels can cause the nephrons in the kidneys to become damaged, and therefore they cannot filter blood and waste products properly.
As some nephrons become damaged, the remaining nephrons have to work harder; this increases pressure in these nephrons, which in turn causes them to succumb faster to damage. It becomes a vicious cycle: as more nephrons become destroyed by high glucose and high blood pressure, the pressure within the kidneys, as well as blood pressure, both increase. This causes even more harm to the kidneys.
As the damage and pressure within the kidney increases, two things occur:
The blood vessels within the nephrons become "leaky" and protein from the blood falls through the nephrons into the urine. As kidney disease progresses, larger amounts of protein spill into the urine; this is called proteinuria, and it is measured by a urine test. This test can determine early stages of kidney disease before there are signs or symptoms.
The flow through the kidney starts to decrease. This causes a build-up of waste products in the blood. Again, this may not cause any signs or symptoms until it is at a critical level. However, the "flow" through the kidney can be followed by a blood test (which should be done yearly, or more often if kidney disease is detected) early on to watch for any progression of kidney disease.
High blood sugar levels can also affect the nerves that tell you when your bladder is full. Constant pressure from a full bladder can damage the kidneys and contribute to kidney disease.
How common is kidney disease?
A recent survey found that chronic kidney disease is more common in people who have another chronic disease, such as diabetes, high blood pressure, Parkinson's disease or chronic obstructive pulmonary disease.
In people with diabetes, kidney disease is very common. In fact, diabetes is the leading cause of kidney disease in Canada. It is estimated that 50% of people with diabetes will have signs of kidney damage in their lifetime.
Are there any risk factors for developing kidney disease?
Besides diabetes and high blood pressure, risk factors for kidney disease include:
Cigarette smoking
Obesity
Elevated low-density lipoprotein cholesterol levels (the "bad" cholesterol)
Atherosclerosis (hardening of the arteries) and congestive heart failure
Cirrhosis or liver failure
Kidney stones
A family history of kidney disease