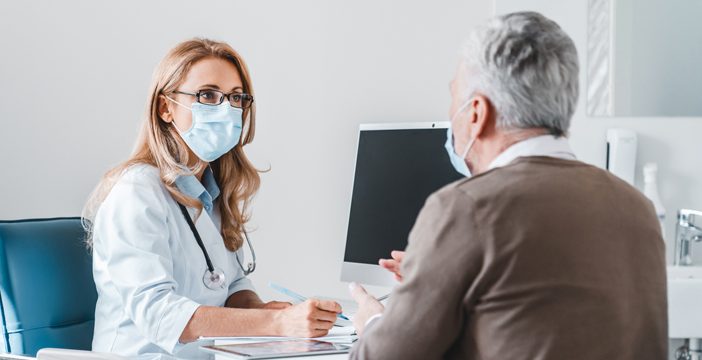 The COVID-19 pandemic has impacted us all in many ways, but those living with diabetes have been affected even more profoundly. Eating and physical activity patterns, and the routines of life that foster mental health stability, have all been disrupted. Managing a challenging disease has become even more difficult. A recent survey showed that almost 40% of Canadians living with a chronic disease say they are avoiding the healthcare system altogether during the pandemic. Many have put their diabetes care on pause. Unfortunately, interruptions in diabetes care are known to lead to more complications and even death. This blog addresses why this has happened, the consequences and what to do about it.
How did this pause in care happen and how has this changed during the pandemic?
Early in the pandemic, we learned that people with diabetes are more likely to develop complications of severe COVID-19, causing fear of seeking healthcare due to worry about exposure to the virus. Much data has now shown us that many people did not seek emergency care when needed. For example, people living with diabetes are at higher risk of heart attack; during the pandemic, if they experienced chest pain, some of them might have deferred seeking treatment.
However, as the pandemic progressed, good pathways were developed to have different "streams" within hospital settings deal with urgent non-COVID-related issues. Moreover, people living with diabetes now have their best protection from getting COVID-19 and that is to get vaccinated! Recent studies in British Columbia (likely similar in other provinces) have shown that COVID-19 vaccination prevents 90/100 cases of COVID-19 and 95/100 hospitalizations.
Get vaccinated and don't be afraid to seek emergency care when appropriate!
What can be done by virtual care?
Good diabetes care means regular interaction with your diabetes healthcare team for education, medication review and renewals, screening, prevention and management of diabetes complications, as well as mental health assessments and interventions. Much of this may be done by virtual visits. Perhaps one of the good things that has come out of the pandemic has been the increase and ease with which people living with chronic disease have been able to connect with their healthcare teams without having to meet with them in person.
Many aspects of diabetes can be assessed via a virtual visit (telephone, Zoom, email, etc.) and self-management and participation in care has never been so important. Preparing for a virtual visit is important. There is a lot you can do to help support your virtual visits. This includes self-monitoring of blood sugars at home, checking your blood pressure at home, keeping track of your weight, and doing regular foot assessments. You ought to have a good idea of how often your diabetes team has suggested you check your blood glucose. Many of the monitors and sensor type devices have graphs and analyses of the information that you can share with your team. Hypertension Canada provides a list of reputable home blood pressure monitors and offers practical advice on how to take your blood pressure at home.  You can perform foot screening for nerve damage by using the Touch the Toes Test, a method promoted by Diabetes UK.
When is it necessary to be seen in person?
There are times when it is appropriate and necessary to see your diabetes healthcare team in person for ongoing care. Approximately 30% of people with a chronic disease recently surveyed said they feel uncomfortable seeing their primary care provider in person during the pandemic. There are protocols in place in diabetes centres and offices to make these safe places to visit.
It is, of course, necessary to have in-person contact for laboratory tests. These tests, which include looking for progression of kidney disease with blood and urine samples, determining average blood sugars with A1C, and monitoring cholesterol levels, are paramount for good care. It is impossible to assess these unless you have laboratory testing. In addition, eye assessments must be done in person. For those who are unable to participate in virtual care, they must be reviewed in person. After several virtual visits, your provider may decide that it is important to see you in person. Your healthcare team can help you assess when these in-person visits are required.
A summary of your diabetes care checklist
Remember the ABCs of good diabetes care. With the pandemic, maybe we need to add a few more S's to the list!
Here's the list:
A: Assess blood glucose control using A1C
B: Blood pressure … you can help by checking this at home, and taking medication as  prescribed
C: Cholesterol monitoring and taking medication as  prescribed
D: Drugs for cardiovascular risk reduction, if you have been assessed as needing them, and taking them as prescribed
E: Exercise, healthy eating and weight management
S: Self-management: look at barriers to achieving goals
S: Smoking cessation
And some new additions:
S: Shots (immunizations)
S: Safety (masking when appropriate and hand washing)
S: Self-screening of feet
Connect with your diabetes team and get your health off "hold!"