Why do you think healthcare practitioners recommend good glucose control, as well as certain medications to manage diabetes? Is it just a hunch or is there good evidence? The answer is that there have been certain landmark diabetes trials that are so important and ground breaking, they have changed the way we treat the condition. Having worked on the Diabetes Canada clinical practice guidelines since 1998, I can say with certainty that the recommendations are based on the best evidence available, and that evidence comes from diabetes studies.
Every clinical trial is designed to answer a question, for example, "Does lowering A1C reduce diabetes complications?" It is quite amazing that this wasn't known until some of the studies were conducted! Many people thought that there were just "lucky" people with diabetes and "unlucky" people with diabetes.
Evidence is ranked by the kind of study that is done. The best kind of study is a randomized, placebo-controlled, blinded study. Here's what this means:
Randomised means that a large number of people (those who are taking part in the study) are put into one of two groups. The groups are checked to be sure that by random assignment they are similar, and then only the one factor that is being studied is different in each group. This one factor could be targeting a lower A1C, addition of a drug that lowers cholesterol, a certain medication that lowers blood sugar or an overall risk factor reduction management approach.
Placebo-controlled means that a drug is given to one group and not the other. The other group gets a "dummy pill" (a placebo), just in case the attention of being in a trial and receiving a pill is enough to improve their outcome.
Blinded means that neither the study investigators nor the person getting the medication or treatment knows who is being treated with the medication or the placebo; this is important to ensure that the study outcomes aren't influenced by this information.
A time line is set, and the two groups are compared to see who does better. Does one group have fewer diabetes complications, better quality of life or live longer?
Landmark diabetes trials can be categorized by ones where the A1C is controlled, or ones in which a specific medication is used but the A1C is the same in each group. Also, trials are usually different for type 1 and type 2 diabetes. Here is a summary of some landmark trials in type 1 diabetes. (My next blog will look at type 2 diabetes trials.)
Type 1 diabetes trials
Diabetes Control and Complication Trial (DCCT)
The question this trial was meant to answer: Can glucose control that is close to normal prevent or delay diabetes complications?
 How the trial was set up: The DCCT was a randomized trial comparing a more intensive insulin routine (three or more insulin injections per day or use of an insulin pump) targeting near normal blood glucose (pre-meal 3.9 to 6.7 mmol/L and post-meal 10 mmol/L) vs. less frequent injections and less intensive control. The insulins used at that time were regular, NPH, lente and beef ultralente. The people in the trial were between 13 and 39 years of age, and were generally healthy. This trial started in 1972 and lasted 10 years.
Results: The average A1C in the conventional group was 9%, and in the intensive group it was 7%. The more intensively treated group showed a 35% to 75% reduction in small blood vessel complication rates (e.g. eye, kidney and nerve complications). This result was so dramatic that the study was halted one year early, as it was felt that it would be unethical to continue to have people in the conventional group. The main adverse effect for the intensive group was an increase in hypoglycemia (although there were no major adverse outcomes due to hypoglycemia) and weight gain (4.7 kg, which disappeared at the end of the trial).
Effect on patient care: It is clear from this study that for people with type 1 diabetes, taking multiple injections of insulin or using an insulin pump and targeting near normal blood sugars vs. one to two injections per day with less tight control prevents and delays complications of the eyes, kidneys and nerves by up to 75%. This led to the standard of care for type 1 diabetes to be multiple insulin injections, more glucose testing (this was about the same time as blood glucose testing took over from urine testing) and near normal glucose control. Since the adverse effect was more hypoglycemia, this led to the development of newer insulins that were more predictable and better absorbed, which would lead to less hypoglycemia while achieving blood glucose closer to normal.
Epidemiology of Diabetes Interventions and Complications (EDIC)
The question this trial was meant to answer: Do the benefits of early intensive glucose control continue to reduce diabetes complication rates?
How the trial was set up: This was an observational study after the DCCT, which means that both groups from the DCCT were treated the same way and observed. Both the conventional and intensive groups were offered intensive glucose teaching; they then returned to their usual care and were observed for further diabetes complications.
Results: Both groups had an A1C of 8%. In other words, the intensive group – without any extra support (like in the DCCT trial) – tended to increase their A1C, while the conventional group improved their A1C, as this was now the standard of care (see figure below). Even though the two groups had the same A1C for the next 10 to 18 years, their rates of complications differed greatly. The group that had previously been in the intensive group continued to have far lower rates of eye, kidney and nerve disease, and now also had a 60% reduction in heart disease.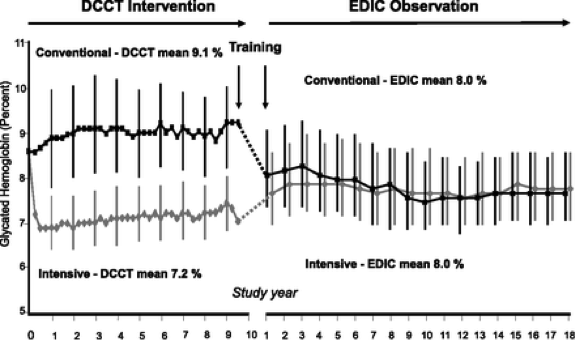 Effect on Diabetes Care: From the EDIC trial a new term was coined, called "metabolic memory." This means that early good glucose control (A1C close to 7%) confers protection and reduces the rates of diabetes complications later in life. This applies to complications of the eyes, kidneys and nerves, as well as the heart.
So when healthcare providers encourage people with type 1 diabetes to have excellent blood glucose control as soon as possible, they have very good evidence to back them up!