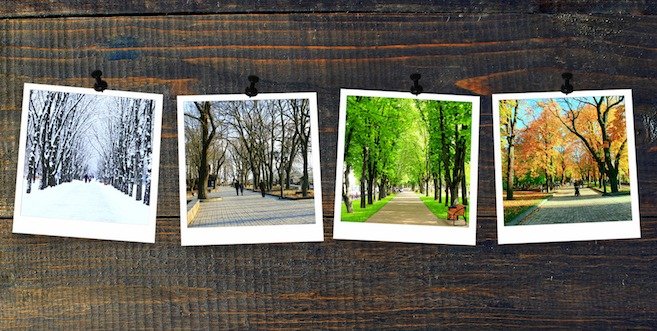 How can seasonal changes affect diabetes?
Diabetes and seasonal changes go hand in hand. Whether you're experiencing the heat of summer or the cold of winter, weather can affect your diabetes management.
In hot weather, people with diabetes tend to suffer from dehydration (a harmful reduction in the amount of water in the body) more easily. When you're dehydrated, you have higher blood sugar because less blood flows through your kidneys. With less blood flow, your kidneys don't work as efficiently to clear excess blood sugar from your urine.
Cold weather can also cause blood sugar and A1C levels to rise. There are a number of reasons for this:
People tend to have weaker immune systems in colder weather, which means they get sick more easily with wintertime illnesses such as a cold or the flu. When you are sick, blood sugar levels tend to rise.
The cold weather in general also means that blood flow in the body is reduced, which can increase blood sugar levels.
People tend to stay indoors more in the winter, which means you're probably getting less exercise than you would be in warmer temperatures.
Managing diabetes in the summer
One of the most important things you can do during the summer is to stay hydrated, especially when you're performing physical activities. Keep a bottle of water on hand, whether you're at home or on the go.
Because high temperatures can change how your body uses insulin, you may need to test your blood sugar more often. Moreover, if you take insulin to manage your diabetes, you may need to adjust your dosage. It's also important to test your blood sugar before, during and after exercise, and take action accordingly.
Another important consideration as the weather warms, is seasonal allergies. Common symptoms of allergies include sneezing, runny nose, nasal congestion and itchy eyes, which can be treated with over-the-counter and/or prescription medications. It is important to consult your doctor or pharmacist before self-selecting an allergy medication, because they can interact with your medications and the management of medical conditions such as diabetes and high blood pressure. Read more about seasonal allergies and diabetes here.
Managing diabetes in the winter
While it's tempting to stay indoors during the dead of winter, exercise is key to keeping your diabetes under control. Exercise lowers your blood sugar, helps your body use insulin better, and can even improve your mood. There are lots of ways to get active without ever leaving your home. Try yoga, climbing the stairs a few times, or dancing.
Blood sugars rise when we're sick, so it's important to stay as healthy as possible during the winter months, when the cold and flu seasons are at their peak. To help stay healthy in the winter, make sure that you get your annual flu shot, get seven to eight hours of sleep each night and wash your hands frequently. If you do get sick, stay home!
Managing diabetes while traveling
Here are some tips to ensure that you remain healthy when travelling:
Whether you're travelling by airplane or car, take as many opportunities as possible to move around.

When flying, walk around the airport before boarding and do stretching exercises in your seat, including moving your ankles around in circles.
If you're driving, take frequent stops to walk around and stretch.

Check your blood sugar regularly, especially if you're flying a long distance through numerous time zones. If you take insulin to manage your diabetes, you'll likely need to adjust your insulin regimen; talk with your diabetes healthcare team before you travel, as they can help you determine how to adjust your regimen.
If you are travelling to an area that is extremely hot or cold, store insulin or injectable medications in an insulated bag; do not allow them to freeze or to become overheated.
With air travel, carry your medications on the plane instead of putting them in checked bags. In the event of a delay or lost luggage, you'll always have them with you!
Managing diabetes at higher altitudes
Travelling in a high-altitude (mountainous) area can affect your diabetes management in a number of ways. Low blood sugar (hypoglycemia) occurs more frequently at high altitudes. Less commonly, high altitudes can cause high blood sugar (hyperglycemia) or even ketoacidosis. Increased altitudes have also been shown to cause diabetic retinopathy to worsen, due to low oxygen levels at greater heights.
Having diabetes shouldn't prevent you from taking a trip to a high-altitude destination; it just means that more careful planning is required! Tips to help you when travelling at high altitudes include:
Discuss your medications with your healthcare team before you travel, and how your medication regimen might be altered.
Always tell people you're travelling with that you have diabetes, so they can help you if you become ill.
Keep your diabetes supplies in one place, preferably close to your body to prevent freezing.
Carry urine strips to check for ketones or a blood glucose meter that checks for ketones.
Bring extra supplies with you, including insulin, monitoring supplies and injectable glucagon.