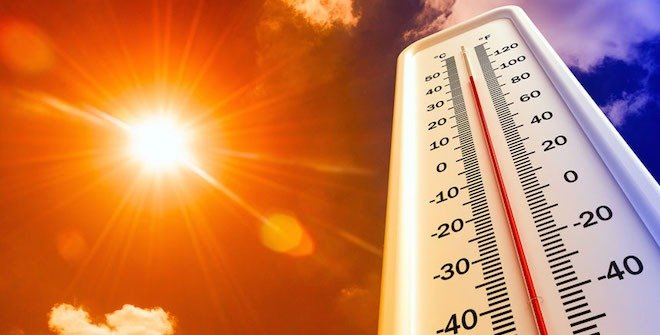 The environment is changing more rapidly than scientists anticipated. With it, we are experiencing an increased frequency of extreme weather events. Intense and prolonged cold weather brings an assortment of problems, such as hypothermia, slips and falls, and social isolation. Fortunately, buildings in Canada are designed to retain heat and keep us warm, even in the depths of winter. Potentially more immediate dangers arise during the summer months, when avoiding the heat becomes more difficult and we are exposed to prolonged heat stress both indoors and outdoors.
Health problems that arise during extreme heat
Summer temperatures are predicted to increase in the coming decades, with average day-time temperatures reaching 30 degrees Celsius and higher. Intense heat waves and sustained high temperatures are expected to become more commonplace. Unfortunately this is associated with a higher incidence of heat-related illness, adverse health outcomes and even death. When outdoor temperatures are high, most people limit their time spent outdoors, but these conditions become problematic in situations where this is not possible (for example, an outdoor working environment). Even currently recommended heat exposure guidelines will not be enough to protect workers.
Indoor temperatures can also reach dangerous levels during the summer, and this becomes particularly relevant for locations populated with vulnerable individuals (for example, schools, hospitals, long-term care facilities and homes without air-conditioning systems). Even small elevations in outdoor temperatures translate to rising indoor temperatures that are associated with negative health outcomes such as reduced functional ability and sleep quality, as well as mental fatigue. Despite general recommendations for indoor temperature limits (for example, Toronto Public Health and World Health Organization), the evidence for which conditions are associated with the highest risk is severely lacking.
Extreme heat and issues for people with chronic diseases
Older adults and people with chronic diseases, such as diabetes and hypertension, have a reduced ability to dissipate heat at rest and during physical activity. Protective mechanisms, which typically help the body cope with increased temperatures, are not as effective in these people. This includes responses in the brain, blood vessels, sweat glands and cells. Importantly, greater demand is placed on the heart and blood vessels due to redistribution of blood flow to the skin to aid in body cooling. This increase in workload, coupled with a reduced capacity to anticipate and respond to elevations in stress during hot conditions, likely contributes to a greater risk of hospitalization and adverse events.
Research initiatives regarding extreme heat and its effects on the body
Our research group at the Human and Environmental Physiology Research Unit (School of Human Kinetics, Faculty of Health Sciences, University of Ottawa) investigates the stress that high environmental temperatures place on vulnerable people at rest and during physical activity. Working with our funding bodies (Health Canada, the Government of Ontario, Department of National Defence and the Canadian Institutes of Health Research), we address this issue from separate but complementary approaches in an attempt to answer the following questions:
What body systems are most compromised and could lead to adverse health outcomes?
What temperature limits should be recommended based on evidence of meaningful changes in the capacity of people to cope with heat stress?
We are currently recruiting volunteers to participate in our studies (older adults 50 to 80 years of age) who are otherwise healthy, and individuals with diagnosed diabetes or hypertension. Qualifying participants will receive a free health and fitness assessment (valued at $650), and our research group provides individualized strategies to protect people in situations associated with adverse health outcomes (for example, physical activity and nutrition recommendations, blood pressure management and environmental exposure). We hope that this research, and that of our international collaborators, will provide evidence-based guidelines for keeping everyone safe this summer, and in the summers to come!
To learn more about participating in these studies, please contact the University of Ottawa's Human and Environmental Physiology Research Unit at hepru@uottawa.ca or call 613-562-5800 extension 4270. For further information, visit www.hepru.ca.