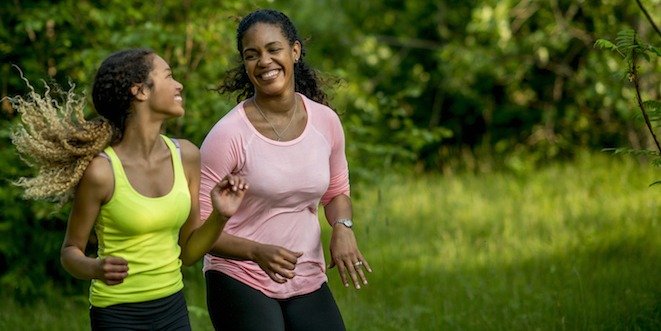 Summer is the season that so many of us look forward to. But managing the heat wave with diabetes can pose a number of problems. Dehydration and heat exhaustion are prime examples. When we exercise, the muscles generate large amounts of heat that causes us to sweat. Perspiration is the body's built-in natural air cooling system that prevents our system from overheating. However a high percentage of people living with diabetes have neuropathy or nerve damage, which can interfere with the activity of the sweat glands. This makes it difficult for the body to regulate its temperature. As a result the body fails to cool down as the mercury continues to rise.
Also high humidity coupled with warmer temperatures can interfere with the body's ability to stay cool. Because there is already so much moisture in the air when it's humid, our sweat can't evaporate quickly to create that cooling effect. As a result, the body loses water as it pumps out sweat, while the body temperature continues to rise. An index which combines air temperature and humidity into one number is known as the Humidex.
The Canadian Humidex Calculator: (http://www.csgnetwork.com/canhumidexcalc.html) is a convenient guide that can help you to know the anticipated discomfort during exercise on a hot humid day:
Less than 29: Little or no discomfort
30 to 34: Noticeable discomfort
35 to 39: Evident discomfort
40 to 45: Intense discomfort; avoid exertion
Above 45: Dangerous discomfort
Above 54: Heat stroke probable
If the reading is in the mid to high 30s, then certain types of outdoor exercise should be toned down or modified. When the Humidex reading is 40 or more, exercise outdoors should be avoided for safety reasons.
Our bodies are made up of nearly two-thirds water, so it really is crucially important that we consume enough fluid to stay hydrated and healthy. One should increase water intake before exercise, drink throughout the workout and continue drinking after exercise is finished. In general it is suggested that one should drink 6-8 ounces of water prior to exercise and continue drinking every twenty minutes during and after exercise. Steer clear of sports drinks. They are loaded with calories coming mostly from sugar.
Alcohol is a diuretic. Drinking cold beer and other alcoholic beverages can cause your body to lose fluids which increases the risk of dehydration. Severe dehydration can be fatal, but is unlikely to occur in people with access to safe drinking water. Mild dehydration can occur if you are not drinking frequently and can result in heat exhaustion. Symptoms of heat exhaustion include light-headedness, dizziness, headache, muscle cramps, rapid heartbeat and can lead to nausea and vomiting. Treatment includes one recognizing the symptoms; two stopping the activity, and three, moving to a cooler environment. Rehydration with water or a sugar-free drink is necessary.

Other precautions for exercising in hot weather relate to blood sugar. High heat does not directly affect glucose levels, but it can lead to changes in one's daily habits. For example, eating less or over exerting yourself without adjusting your medication can lead to hypoglycemia, whereas being less active and drinking sugar sweetened beverages or eating ice cream on a hot day can lead to hyperglycemia. Not wearing sunblock and getting a sunburn is an added stressor to the body that can also raise blood sugar levels.

Summer also brings the desire to wear flip-flops and sandals. Perhaps you enjoy kicking off your shoes and walking around barefoot. Because of the risk associated with exposing the feet, Diabetes Canada suggests that people with diabetes should skip the "barefooting" part. Diminished ability to feel different sensations in the feet as well as poor wound healing due to poor circulation can cause problems. Daily foot care is important to check for blisters, cracks or other signs of injury. Use a moisturizer daily to keep dry skin from cracking. But don't moisturize between the toes – that could encourage a fungal infection.

Staying physically active is an important part of managing type 2 diabetes.

Here are some heat safety tips that are suggested by the Public Health Department:

Drink lots of water or unsweetened drinks – do not wait to feel thirsty.

Go to an air-conditioned place such as a shopping mall or a community centre to do 

your exercise(e.g. walking).

Wear loose-fitted, light-coloured clothing that are made of breathable fabric.

Stay out of the sun. If you have to be outdoors, wear a hat and always remember to 

wear sunblock.

Avoid intense or moderately intense physical outdoor activity, especially between 11 

a.m. and 4 p.m.

Use cooling centres in the city if needed.

For more information or help, visit the Canadian Red Cross Heat Wave Information and Facts. 
     Finally, "if it's just too hot, stay indoors and do your resistance training!"
                                           Have a great summer!