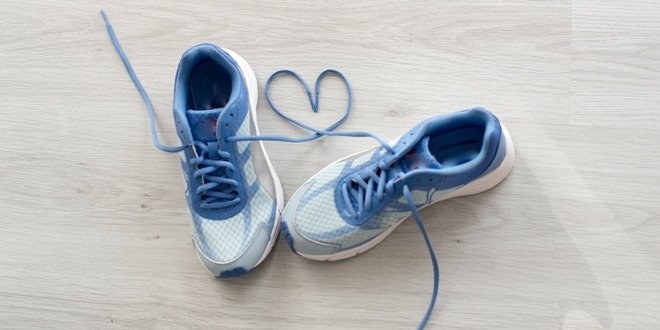 The decision has been made – it's time to start exercising, and you're ready to go out and buy a snazzy pair of workout shoes. But hold on! Did you know that people with diabetes need to take special care when choosing shoes, especially for physical activity? In the tips that follow, we tell you what to look for in workout shoes.

Why people with diabetes need to choose shoes carefully
Many people with diabetes have poor circulation and often experience numbness in the feet. Others develop full-blown neuropathy, where the nerves have become so damaged that all sensation is lost, including feelings of discomfort or pain. These symptoms put individuals at risk of further foot complications, because they don't get the normal warning signs that their feet are being damaged.
Ill-fitting or inappropriate shoes can be a major source of foot damage like blisters, corns or sores. If unattended, these seemingly minor foot problems can lead to serious complications for diabetics. This makes it particularly important for people with diabetes to purchase the right kind of shoes for their feet and their intended activities.
Where to start
Before you even get close to a shoe store, visit your chiropodist. Explain that you plan to get more involved in physical activity, and request a thorough foot check-up before you start. 
Your chiropodist can give you good tips on how to take care of your feet before and after exercising. You should also ask for recommendations about the type of shoes that would be best for you.
In some cases, people are advised to purchase special therapeutic shoes for diabetics. An orthosis may also be recommended. This is a removable insole that offers extra shock absorption and pressure relief.
Your chiropodist is the best person to guide you on this. Even if therapeutic shoes or insoles are not required, you should be purchasing shoes from a retailer with an educated shoe fitter on staff. Ask your chiropodist for recommendations.
Tips for buying workout shoes
Your feet swell in the heat and over the course of the day, so aim to shop later rather than earlier. Also be sure to wear the type of socks that you plan to wear during your activity. You want to make sure that your shoes have ample room for both swelling and socks.
Look for shoes with a cushioned sole that will allow for good shock absorption. It's important to have shoes that will take the brunt of your exercise when you pound the sidewalk or the gym, instead of leaving the whole burden to your feet. Shoes should also distribute your body weight as evenly as possible, avoiding uncomfortable pressure points.
The external structure of the shoe needs to be as comfortable and flexible as possible, while still providing support for the arch, heel and ankle. Make sure the back of the shoe is not going to collapse on either side.
Inside the shoe, look for a smooth lining without stitching or rough seams that could rub against the foot and cause blisters or impair circulation.
It's all in the fit
Make sure you have the guidance of an experienced shoe fitter when you try on shoes. It's important to let the assistant know about the diabetes. He or she should help make sure that the shoes have healthy room for your feet, in terms of both length and width.
Always check shoes for fit on both feet. Some estimates suggest that over 70% of people have one foot that is smaller than the other. This makes it particularly important to have the advice of an educated fitter.
Ease into new shoes with diabetes
It's important that people with diabetes get their feet used to new shoes before wearing them for an extended period of time or during vigorous exercise. Ease into them by only wearing new shoes for an hour or two at a time, at home, when first purchased. Check the feet very carefully after each wearing, paying special attention for signs of pressure points.
Once you have started wearing the shoes regularly for physical activity, continue to check the feet after each use. If you notice blisters, sores, or areas of redness, arrange an appointment with your chiropodist.
For more information on caring for feet with diabetes, see our expert physician's blog article on this site FEET – Love them or lose them!