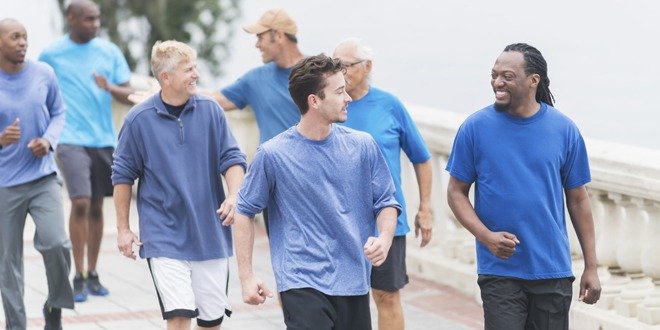 "One run can change your day, many runs can change your life." – Unknown
Do you see people running when it's –20 degrees and snowing, and think, "How ridiculous!"? Twenty years ago, I thought the same thing. Now, I am that ridiculous person. Since 1990, there has been a four-fold increase in the number of runners completing road races. Make a run for it and discover how awesome running is for coping with stress, losing weight, staying fit, meeting new friends and finding new purpose in life.
Whether you are considering joining the millions who are already running, or you've already started, here are some tips.
1. Sign up for a race.  Excuse me, you say, how can this be the number one tip? Well, here is my reasoning: if you sign up for a short race that is a few months away, it will get you motivated and keep you motivated. A 5-kilometre run is a great starting option. You may choose a race that raises funds to support the Canadian Diabetes Association, for example. Racing changes people and, in many ways, that's what it's really about. There are no words to describe the feeling of crossing that finish line and having a medal placed around your neck. If you've already completed a race, you know what I mean!
2. Get your doctor's clearance.  This may seem like it should be number one on your list. However, once you sign up for your race, you won't be able to put off the visit to your doctor. You need to make sure there is no medical reason why you should not run. You can also discuss any possible changes to your medication regimen that may be required.
3. Join a running group.  A group is great for both veteran runners and those who are new to the sport, who want guidance on training. I ran solo for many years, but recently joined a running group; there is nothing like it. The people in my group range in age from 20 to 70 years old. There are skinny little fast runners, and skinny little slow runners. There are big runners who kick some serious butt! Having people around you who are active – and who share your goals – is one of the best ways to stay committed to an active lifestyle.
4. Buy proper shoes. Consult with an expert when you buy running shoes. Make sure they fit well and are appropriate for the distance that you plan to run. If cost is a concern, check with running discount stores or online for last year's model (which is likely just last year's colour, but much less expensive!). It's important to buy actual running shoes because they are designed specifically for this activity.
5. Don't do too much too soon. Some training schedules advise 6 days of running per week, while others have you running 3 days per week. I run 3 days each week, and it works for me. Listen to your body to determine what schedule works best for you.
6. Guys, put band aids on your nipples.  Just Google it. (Hint: nipple chafing is real and painful!) You're welcome.
I'm sure you are lacing up your shoes right now. Good luck, and have fun!