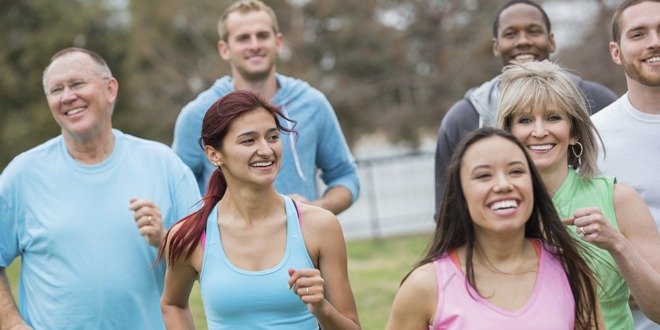 In this article we want to look at the impact of physical activity on blood pressure (BP) with people living with diabetes.
Many complications of diabetes can be attributed to hypertension or high blood pressure. A more intensive approach to managing blood pressure has been shown to have large positive effects on reducing total and cardiovascular mortality compared with less intensive management.  New clinical trial data has focused on systolic BP targets. Systolic blood pressure is the number on the top when you get your blood pressure reading. Hypertension Canada's Canadian Hypertension Education Program(CHEP) consensus discussion resulted in the recommendation to maintain a BP target of less than 130/80 mm Hg for those living with diabetes.
For patients attending the  Diabetes Program at Toronto Rehab, the standard practice is to monitor resting heart rate and blood pressure before, during and following 30-45 minutes of circuit training on either a 220 meter track, treadmills, stationary bicycles,  elliptical trainers or arm ergometers depending on the modality best suited for individual participants.
This provides a great opportunity for participants to observe the effect of exercise on their blood sugar and blood pressure.  Here are just a few of the observations made in the program.
Neil is a 55 yr old male living with diabetes for the last 2 years.  Recently, his blood pressure reading was consistently found to be in the range of 150/85 mmHg.  His family physician wanted him to start taking medication to manage his blood pressure.   Neil had not yet fully understood the implications of having a high blood pressure and, therefore, was hesitant to start taking yet another medication.  Neil's blood pressure readings were similar at the exercise centre prior to exercise but when he raised his heart rate from 75 beats /minute to 120 beats /minute,  his blood pressure consistently rose to  200/90 mmHg and gradually dropped to 150/80 mmHg after 10 minutes.  Neil had already reduced his sodium intake to 2000 mg/day.  He was a non-smoker and did not drink alcohol.  After this experience, Neil decided to start his blood pressure medication as he now obtained an understanding of his blood pressure results  in response to exercise.
Emily is a 65 year old woman of African descent living with diabetes and hypertension for the last 20 years. Her A1c has been averaging 8.5% over the last 9 months.  Despite taking 3 different medications for her hypertension, she reports that her blood pressure is poorly controlled at over 140/85 mmHg. She too had made lifestyle changes that included reducing her salt intake.   She also described her struggle with weight loss and complained of chronic fatigue and body aches and pains.  The severe pain she experienced made it difficult for her to follow the program's prescribed exercise routine that included the exercise bicycle 5 days a week at the local community centre and exercises using the  Thera-Band twice weekly.  Focused medical history revealed she had symptoms that suggested obstructive sleep apnea.  A sleep study revealed she had severe sleep apnea and would stop breathing 30 times in one hour.  This resulted in her using a CPAP device at night.  Within 3 months she was able to exercise regularly; she reported having more energy and was no longer tired.  Her blood pressure dropped to 130/75 mmHg since using the CPAP machine.  An added bonus was that her fasting blood sugars were now 5.8 to 6.5 mmol/L instead of her usual higher than 8 mmol/L prior to using the CPAP.  Six months later her A1c dropped to 7.2 %.
Suraj is a 65 year old man living with diabetes and hypertension for 25 years.  He had an unusual response of low blood pressure with exercise.  His current medications include: metformin 2000 mg and pre-meal rapid acting insulin in addition to basal Insulin before bedtime, as well as 2 different medications to control his blood pressure.  His blood pressure as measured at the centre prior to exercise was well controlled generally at 125/80mmHg. However, after 40 minutes of walking at a 17 minute/mile pace, he began to experience dizziness, weakness and blurred vision. Repeatedly, his blood sugar readings after exercise have been 5.8 to 6 mmol/L, but his blood pressure would drop to 90/65 mmHg, a sign that his nervous system, which controls blood vessel tone was failing as a complication of long standing diabetes.  He also experienced numbness and tingling in his hands and feet (peripheral neuropathy). Suraj learned that if he maintained his hydration by drinking plenty of water before and during exercise and used a recumbent bike for aerobic exercise instead of walking, he no longer experienced a fall in blood pressure and the resulting symptoms.  With this program he maintained good blood sugar levels after exercise.
Gaurab is a 40 year old teacher with a strong family history of diabetes.  Over the last 2 years his fasting blood sugar had gradually been rising to an average of 5.9mmol/L and his A1c was  6.1%.  When his blood pressure was observed to fluctuate in his physician's office, a 24 hour ambulatory blood pressure  monitoring test was undertaken, which yielded a mean blood pressure of 135/82 mmHg.  Gaurab wanted to lower the risk of developing diabetes and hypertension.  He adopted healthy lifestyle habits during his 6 month program at the centre and discovered that not only was he able to lower his A1c to 5.6%,  but his blood pressure was now consistently in the range of 120/75mmHg.  He was able to tackle both his pre-diabetes and hypertension effectively by using exercise as his main therapy apart from following a healthy diet.
A prerequisite for success in the prevention of hypertension is the availability of safe and effective interventions.  Based on a detailed review of the up-to-date evidence available from the CHEP Guidelines, reducing sodium intake, avoiding or drinking alcohol in moderation and increasing physical activity are the most efficacious approaches for preventing hypertension.
Active self-management is critical when living with a chronic condition such as hypertension. The Heart and Stroke Foundation's e-Health tool, My Heart &Stroke Blood Pressure Action Plan (www.heartandstroke.ca/BP), is designed to assess hypertensive patients' lifestyles, provide personalized e-mail support, and facilitate self-management through its interactive portal, which allows people to track their blood pressure levels, progress, and achievements in their selected lifestyle area of focus. Several patient handouts on hypertension can be obtained from www.hypertension.ca. You can also sign up for regular updates and information on hypertension at www.mybpsite.ca.