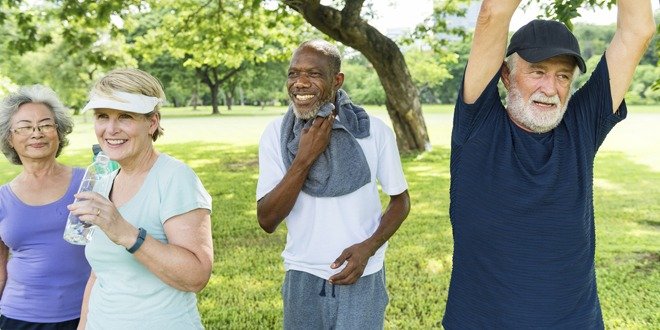 In another article we discussed the benefits for people with diabetes of exercising with a buddy or group of people over exercising alone. In this article, we provide suggestions on how to find an exercise group that will suit individual needs. Once in a group, many people find it easy to hook up with one or more buddies for ongoing exercise or training together.
To review the many benefits of exercising with others, check out our article The benefits of getting out with an exercise buddy.
Then consider some of these key steps to find a group that will motivate you – or the person you support – and meet individual fitness needs.
Consider the type of exercise that's right for you
Physical activity is good for everyone but not all types of exercise are right for all people. For example, if you have diabetes complications, you will need to take this into consideration as you explore exercise options.
Get guidance from the diabetes team to help determine the types of physical activity that will suit your health needs.
It is also important to consider individual likes and dislikes. If you want to find a program you can stick with, you need to feel comfortable that you can enjoy the specific exercise offered by a group.
Finally, consider what might be needed for ongoing motivation. Would you be best suited for a program with a regular set time commitment or other strict schedule to keep you on your toes? Or would flexibility be important to keep you involved long-term?
Research exercise options
Don't limit yourself to traditional programs offered by a gym, for example. Open up your mind to the vast array of activities that can be enjoyed in a group setting.
Group physical activity options include:
Running, hiking or cycling
Cross-country or downhill skiing
Group kickball, baseball, soccer or hockey leagues
Spinning or group fitness classes
Kayaking, canoeing or sailing
Belly-dancing, pole dancing, or ballroom dancing
Charity marathons or group runs
Yoga
Swimming or surfing clubs
Explore local groups
If a group doesn't operate close to your home or workplace and at convenient times, you are unlikely to stick with it. Research the options that will be most convenient to you. Group options can include:
Community recreation programs
Organized independent groups like running clubs, boot camps, gym fitness programs, kayak or canoe clubs etc.
Loosely organized special interest groups, like hiking, bird-watching or cycling
Independent group classes, such as aerobics, dancing, or spinning programs
Fundraising marathon groups such as Team Diabetes
You can get further information online about physical activity groups and programs. For example, community recreation programs are available in most regions, offering such amenities as pools, rinks, gymnasiums, weight rooms, and meeting rooms. They often offer programs for varied interests and age-groups.
Helpful online links to community program options include:
Toronto:  http://www.toronto.ca/parks/prd/facilities/recreationcentres/
Vancouver: http://vancouver.ca/parks-recreation-culture/community-and-cultural-centres.aspx
Montreal: http://www.montrealfamilyties.net/recreation.html

Participaction includes a range of programs from across Canada on their website. Diabetes educators can also be an excellent source of assistance in sourcing appropriate community resources related to physical activity.
Raise funds while exercising with other people with diabetes
Give some real purpose to your physical activity program by joining a group like Team Diabetes, dedicated to raising funds for Diabetes Canada.  Walk, run, hike or bike in exciting international and Canadian destinations and become part of a dedicated team that is making a difference to the 9 million Canadians living with diabetes or prediabetes.
If you or a family member is living with type 1 diabetes, you may want to get involved with JDRF's walk or ride, to help raise funds for type 1 diabetes research and advocacy.