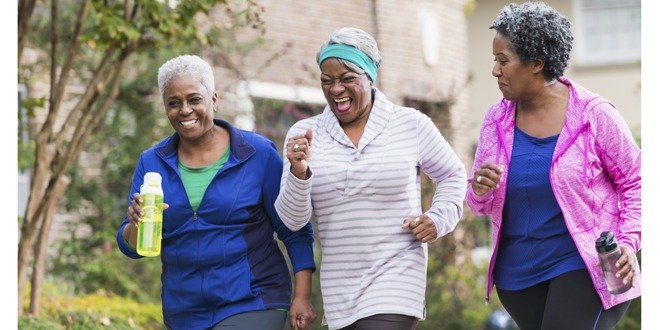 Seniors who have not been active in their professional career and have led a sedentary lifestyle, are at special risk of losing strength, flexibility, endurance and balance without adequate exercise.
Literature on muscle physiology confirms that muscle strength declines by 15% per decade after age 50, and 30% per decade after age 70. It is equally true that by regularly participating in strength-building exercise, this process can be reversed by as little as 2 days a week of resistance training which improves overall strength and agility. Strength training in addition improves heart and blood vessel health for longevity.
For those living with diabetes, exercise for seniors improves insulin sensitivity and can improve a person's response to blood glucose medications. Glucose is the major carbohydrate used as fuel in our body to supply energy. An effective way to lower blood sugar is to use those muscles by increasing physical activity. Most people with diabetes notice a fall of 3-6mmol/L in blood sugar after 30 minutes of exercise. Some are even able to reduce the dose of their oral medications and/or insulin.
Active Aging toolkit recommends seniors increase physical activity initially by identifying opportunities to add more physical activity into everyday life by:
Parking  the car farther away at the mall and walking
Walking the dog
Begin hobbies that require physical activity(such as gardening or hiking)
Add 10 minutes of movement to your morning routine.
Take the stairs instead of the escalator
Incorporate light physical activity into daily life
Participate in physical activities with grandchildren
Endurance activities improve functional capacity such as being able to walk farther, faster, or uphill without fatigue or shortness of breath, or to maintain endurance for daily activities and independence.
Depending on one's initial fitness level, it is best to start 2 to 3 times per week at 10-15 minutes of fun, low-level aerobic activity with a rate of perceived exertion of 12 -13 ("somewhat hard"). Simply adding more steps to the daily routine can also help. A pedometer can be useful in working towards a goal of 10,000 steps a day. Therefore, one can choose a more structured program like swimming for 30 minutes or try to incorporate more walking into your daily routine using a pedometer.
Rate of Perceived Exertion Scale

6 No exertion
7
8 Extremely light
9 Very light
10
11 Light
12
13 Somewhat hard
14
15 Hard (heavy)
16
17 Very hard
18
19 Extremely hard
The goal is to attain a maintenance phase, exercising > 150 minutes of aerobic exercise per week.
Flexibility exercises promote healthy muscle growth and help reduce the stiffness and loss of balance that accompanies aging.
Balance exercises reduce the chances of a fall. Chair exercises may be performed by people who are unable to walk.
For participation in supervised group classes here are a few options:
Diabetes Education Centre: Canadian Diabetes Association is setting up training programs for diabetes educators so that they are able to provide written, individualized, physical activity programs for people living with diabetes, based on their abilities, needs and goals.
A Diabetes Exercise and Healthy Lifestyle Program
Local recreation centre or gym
Community Senior Centre – many offer free or affordable classes .They can also help match the person you support with other people the same age and ability level. This is a great way to meet new people in the community.
Because of the high incidence of heart disease in older adults and the increased risk of cardiac events in those living with diabetes, it is important to be alert to the certain new onset of symptoms as the intensity of exercise is increased. These symptoms need to be reported to a health care professional promptly:
Any chest, jaw, neck or shoulder  pain
Unusual shortness of breath at rest or with mild exertion
Feeling of light headedness or dizziness
Bone or joint pains which intensify during or after exercise
New onset of lack of energy
Swelling of ankles
Palpitations or sudden increase in heart rate
Pains in calf muscles on walking
Difficulty in completing the usual tasks