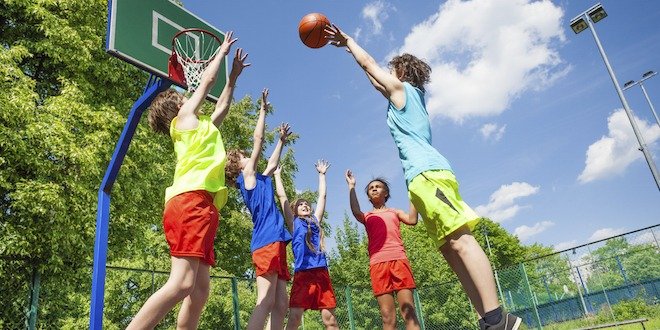 Physical activity is important for everyone, and particularly for children with diabetes. This also needs to be balanced with the appropriate amounts of sedentary behaviour and sleep in order to encourage healthy development. The Canadian 24-hour Movement Guidelines integrate all three aspects. 
Canadian Physical Activity Guidelines for Children
The Guidelines recommend that children over five should get at least 60 minutes of moderate- to vigorous-intensity physical activity each day.
This should include:
Moderate-intensity activities like bike riding, skating, and playground activities.
Vigorous-intensity activities on at least 3 days a week. This means activities that make children sweat and become out of breath. Examples can include running, swimming, and rollerblading, etc.
Activities that strengthen muscle and bones at least 3 days a week. These can include swinging on bars in the gym or park, skipping, jumping, gymnastics, rope climbing or climbing trees, etc.
You can help to encourage regular daily physical activity by taking your child to the playground after school, or by registering for out-of-school activities like soccer, hockey, baseball, swimming, or dancing etc. In winter, encourage your child to go sledding or skating. If possible, walk or cycle to school with your child.
If your child has type 1 diabetes, remember to talk to the healthcare team before you make major changes to physical activity routines. Physical activity usually lowers blood glucose levels, so insulin adjustments are sometimes required.
Canadian Sedentary Behaviour Guidelines
The Sedentary Behaviour Guidelines reflect findings that children's well-being can be negatively affected by too much time spent being sedentary each day.
Sedentary behaviour is defined as time when children are doing very little physical movement. The examples provided include:
Sitting for long periods
Using motorized transportation (such as a bus or car)
Watching television
Playing passive video games
Playing on the computer
Spending less time being sedentary can help children maintain a healthy body weight and improve their fitness, among other benefits. For children with diabetes, the reduction in blood glucose levels is an additional important advantage.
You can help to reduce sedentary behaviour by walking with your child whenever possible instead of driving. Limit after-school TV and video game time to no more than 2 hours per day and get outside instead.
Sleep Recommendations
The current guidelines suggest that children aged 5-13 years have 9 to 11 hours of uninterrupted sleep per night and for those aged 14–17 years, 8 to 10 hours per night, with consistent bed and wake-up times.