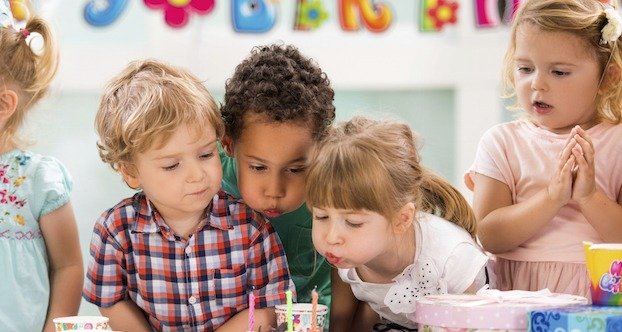 Yes, we know – the very thought of your child going off to a party at someone else's home may at first fill you with horror: away from your control, over-excited, distracted by all the fun, and surrounded by an abundance of enticing high sugar and high carb treats. But you can managing type 1 diabetes at birthday parties. Let us explain.
A kid with diabetes is first and foremost a kid. And kids LOVE birthday parties! Try to relax. With a bit of planning, plus collaboration with the healthcare team, your child can safely include birthday parties as part of their childhood experiences.
Touch base with the host
Call the parent host and find out what is planned for the party. Take notes as you chat. Ask what time the food will be served, and whether there will be any physical activities prior to or following the food. Check what sort of food and beverages are planned.
Offer to provide a platter of snacks that you know your child loves. For example, perhaps fajita roll-ups filled with low-fat cream cheese and salsa, or a platter of sugar-free dessert snacks. You could also offer to bring a pitcher of your 'special homemade lemonade', with berries floating in it. This is preferable to sending special food for your child alone, which can make a child stand out and feel uncomfortable. Your child can enjoy these snacks along with their friends, without unsettling their blood glucose levels.
Reassure the host that you will be close by and available by phone the entire time. If this will be your child's first birthday party, ask if it would make the host feel more comfortable to have you there in person, helping out as a volunteer.
Talk to the diabetes healthcare team
Ask for their advice on how to manage your child's diabetes on special occasions like birthdays. Tell them the time when your child will be eating, and the planned times for physical activity. They may make recommendations for insulin adjustment and blood glucose monitoring, which may include checking levels immediately after the party.
Talk with your child
Get out your notes from your phone call with the parent host and from your discussions with the diabetes healthcare team. Use these to work out a strategy with your child that will help to keep blood glucose levels on track.
Talk about the sorts of foods that will be at the party. Where possible, encourage your child to be the one to make decisions about which foods to choose, and which will be better avoided.  Discuss the importance of portion sizes.
Tell your child you will provide six Lifesavers® or similar to take to the party, in case hypoglycemia symptoms arise. Discuss exactly what should be done if this does occur, and reassure that you will only be a phone call away.
What if your child isn't invited?
Some parents are concerned to find that invitations to birthday parties and sleep-overs suddenly cease after their child is diagnosed with diabetes. This can be very distressing for children.
If this does happen, recognize that it's likely due to a lack of familiarity with diabetes.  Your child's classmates' parents' may fear your child may need urgent care at any moment, and worry that they couldn't cope. The best antidote for this is information and communication.
Host a party at your own home and consider inviting all the parents to join for cake and a beverage for the last fifteen minutes. When they see your child playing just like any other kid, they are likely to feel more relaxed. This will also give you an opportunity to get to know the parents better, and to chat a little about your child's diabetes.