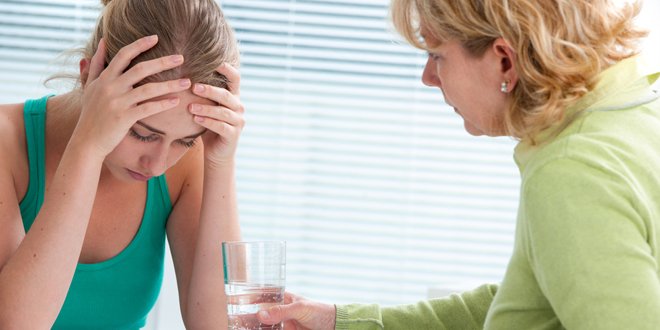 What is glucagon?
Glucagon is a hormone released from the pancreas that raises a person's blood sugar by converting stored glycogen in the liver into glucose. In a person without diabetes, the pancreas releases glucagon to ensure blood sugar does not drop too low. When a person has diabetes, the release of glucagon doesn't happen as effectively.
That's why glucagon is available as a medication to treat severe hypoglycemia, when a person is unable to treat themselves. People with diabetes who have a higher risk of severe hypoglycemia include those who take insulin or a type of drug called an insulin secretagogue (for example, glyburide, gliclazide or repaglinide).
How does glucagon work to improve low blood sugar?
When glucagon is given as a medication, it triggers the release of glucose from the liver to increase blood sugar levels, just as the natural hormone is supposed to do.
When administered, glucagon is absorbed into the blood stream and travels to the liver where it signals the release of glucose into the blood. Glucagon usually takes about 10 to 15 minutes to raise blood sugar back to a safer level after it is given.
How is glucagon administered?
Your healthcare team should prescribe glucagon for you to have at hand should the need arise. There are two forms of glucagon medication used to treat severe hypoglycemia: injection and nasal powder.
Injection
The glucagon injection kit contains a vial of powdered glucagon and either another vial of sterile water or a syringe that is preloaded with sterile water. The glucagon is mixed with the sterile water, and then injected under the skin. Glucagon can be injected into the arm, thigh or buttock.
Nasal powder
Recently, a new method for administering glucagon was approved in Canada, in the form of a nasal powder. It comes in a small tube that has a plunger on one end. The tube is gently inserted into a nostril and when the plunger is pressed, the dose of glucagon nasal powder is administered. The nasal powder is not inhaled or breathed in. It is absorbed through the nose.
When should glucagon be administered?
Glucagon is needed when a person with diabetes is suffering severe hypoglycemia which is when they are unable to treat themselves. Severe hypoglycemia may be associated with a blood sugar level that is lower than 2.8 mmol/L.
Glucagon should be given if the person with diabetes is:
Unconscious
Having a seizure
Unable to safely take a form of glucose by mouth to raise their blood glucose
Are there any side effects of glucagon?
The most common side effects of injected and nasal glucagon are nausea and vomiting.
Side effects specifically related to glucagon injection include skin discoloration, numbness, pain or tingling, and redness at the injection site. Side effects specifically related to nasal glucagon include a runny nose and nasal congestion, and head and facial discomfort.
Where should glucagon be stored?
Glucagon should be kept in its original container, and not opened until it is needed. It should be stored at room temperature, not in the refrigerator or freezer. It should also be kept away from excess heat and moisture, so it should not be stored in the bathroom.
If you are at risk for severe hypoglycemia, you should carry glucagon with you at all times. At home, make sure it's stored in a handy location, and that your family members know where it is. Away from home, carry it in your purse or backpack, and make sure that family members, friends, co-workers or school teachers know where to find it.
Because people who have a severe episode of hypoglycemia usually cannot administer glucagon themselves, it's important that they teach family members, friends or co-workers how to do so. For children with diabetes, a school teacher or nurse should be taught how to administer glucagon.
Every glucagon package – whether injection kit or nasal powder – has an expiration date. Glucagon that has passed its expiration date will not be effective to treat severe hypoglycemia, so it's important to replace outdated glucagon medication. One easy way to remember to do this is to set a calendar reminder a few weeks before a replacement is needed, at which point you can request a prescription for a new kit from your healthcare team.
This article is sponsored by Eli Lilly Canada Inc. but independently created by Diabetes Care Community Inc.