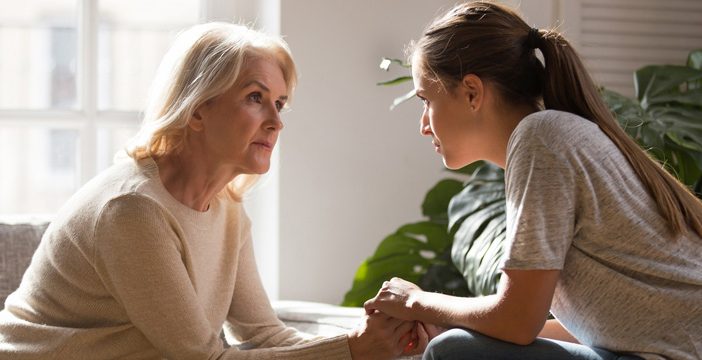 The link between diabetes and mental and social health outcomes has been well established in adults. However, children and young adults living with diabetes also experience a range of challenges related to managing a chronic condition. While navigating what may be the most challenging time of their lives, youth living with diabetes often experience an array of complex psychosocial factors that affect their overall well-being and ability to manage the condition. While there have been great advancements in diabetes management for youth and adults in recent years, it is important to address the unique challenges that children and young adults face while living with diabetes.
How common are mental health issues in youth living with diabetes?
As with adults, research indicates that youth living with either type 1 or type 2 diabetes are at higher risk of experiencing a mental health challenge compared with their peers. Furthermore, research also indicates that mental health challenges are linked to worsened diabetes management across the lifespan. Youth managing diabetes are at particular risk for experiences of isolation compared with their peers, with research showing that more than two-thirds of Canadian youth with diabetes feel stigmatized due to their condition. As young people begin to exert more freedom over their choices, youth living with diabetes often feel restricted in their ability to make such decisions, separated from their peers. This can result in failing to engage in proper diabetes management, leading to complications.
Eating disorders in youth
Recently, more attention has been given to youth's experiences with body image and self-confidence, and how disordered eating habits and unhealthy relationships with one's body in early years impacts one throughout their lives. Youth living with diabetes are shown to engage in higher rates of disordered eating and are susceptible to a condition known as 'diabulimia.' Unique to individuals living with diabetes, diabulimia occurs when a person purposefully misuses, or stops entirely, the use of insulin in an effort to maintain or lose weight. Understandably, diabulimia can be very dangerous, as it reinforces negative thoughts about one's body and results in complex diabetes complications.
How to provide support to youth living with diabetes
Parents and caregivers may feel overwhelmed or ill-equipped to support their young loved ones as they navigate living with diabetes. Finding a balance between providing supportive care and encouraging proper health management can be challenging. If you are caring for a youth with diabetes, the following tips may support you and your child on this journey:
In addition to diabetes, mental health carries extreme stigma. Youth often feel they cannot speak about their internal experiences, or may have difficulty understanding and articulating their emotions. Engaging in open, honest conversations about mental health help youth understand that they are not alone, and it is healthy to share their feelings. Creating a safe environment where your child can be open about their emotions will help you support your child through difficult times.
Direct them to peer support
Youth living with diabetes face a range of challenges that their peers do not, which results in experiences of stigma and isolation. Many children managing the condition often have never met someone else who can relate to what they are going through. Finding opportunities for peer support and for youth to meet and engage with others also living with diabetes can be transformative and improve their overall wellbeing. An example of programming to support youth living with type 1 diabetes is the D-Camps program run by Diabetes Canada. At these camps, with locations across the country, youth are able to meet peers and get support from others who understand their experiences. If you are interested in learning more about D-Camps, information is available on the Diabetes Canada website.
Transition responsibility gradually
Many caregivers of youth living with diabetes have a difficult time balancing how much or how little to support their child in managing the condition. We may run the risk of being too overprotective and not provide our children with opportunities to gain more independence, or we may find ourselves in the position of giving too much responsibility when a child may still need guidance. Unfortunately, research indicates that both can have negative impacts on youth mental health and result in diabetes complications. Instead, a collaborative, gradual transition of responsibility for diabetes management has been shown to improve glycemic control and psychosocial health. It is important to speak with your loved one in affirming ways about their strengths and challenges managing the condition, and how you can best support them along their journey.
Be supportive rather than punitive with your guidance
Similarly, family conflict has been shown to have a negative impact on youth's glycemic control, with research showing that youth in families where diabetes management is a central point of conflict often have worsened diabetes outcomes and mental health. As much as possible, try to work with your loved one to improve their health practices through a supportive, rather than punitive, lens.
Develop constructive, positive and healthy conversations with your child about body image, and familiarize yourself with warning signs that could indicate someone is experiencing disordered eating. Youth often feel deep shame when discussing their bodies, which is why it is important to be gentle and create an environment free of body shaming or negative body talk.
Seek professional support when appropriate
Adolescence and young adulthood is a tumultuous, challenging time for many, and this is particularly true for those living with diabetes. Youth may feel they have to face these challenges alone, which can compound diabetes complications. Mental health support, whether it be peer support, individual or family counselling, can be a powerful experience to many as youth begin to become independent and assert their place in the world.
Youth and young adulthood is an exciting and challenging time for many, and for youth living with diabetes it is important that we support them to the best of their ability to grow. Physical health management is only one aspect of the equation when it comes to diabetes management, and the importance of mental and social health should not be underestimated. Diabetes is a life-long journey, and the positive experiences and gentle support we can provide to our loved ones while young will support them in living healthy, happy and fulfilling lives.