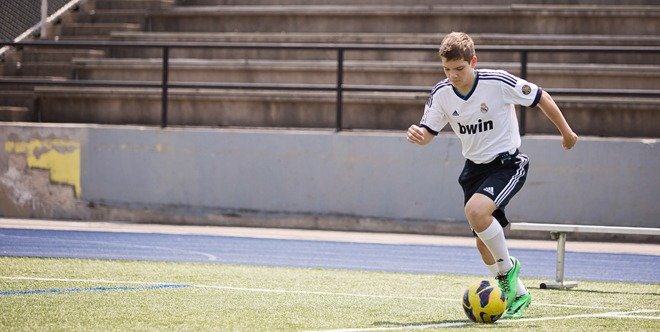 Michael Thornton has already accomplished much in his first 16 years. An elite soccer player, he has been living in Madrid, Spain, with his family for the last two and a half years. He is currently a member of Alcobendasl-Levitt CF, a Spanish football club in the community of Madrid, competing in the top category for his age in the Real Federación de Futból de Madrid,while also attending International College Spain, a leading academy for international students.
Why Spain? "Some of the best teams in the world are here and the level of competition is very high so I have the opportunity to compete against well known youth clubs such as Real Madrid, Atlético Madrid, Rayo Vallecano and so many more."
As you can imagine, it can be challenging to juggle soccer practices and games, as well as carry a heavy academic load – Michael's school day goes from 8:40 am to 4:10 pm, plus at least two or three hours of homework on top of that. As well, he trains for soccer four times per week; each training session is about two hours, and there's a weekly match every Saturday.
It's no surprise, perhaps, when Michael admits that his current challenge is time management. He notes, "It's important for me to be able to fit in all my responsibilities and activities – soccer training, school attendance and homework – but still ensure I have time for family and a social life."
Michael's biggest inspiration is his family. "My parents have always been there for me; they even moved countries to help me realize my dream!" he says. "My mom and dad are there for me no matter what. My dad always takes the time to help me train and offer support. My mom is just as supportive, especially with my diabetes management. Before I had CGM [continuous glucose monitoring], she tested me in the middle of the night, every single night. That was an incredible sacrifice and I truly appreciate it."
While he and his family have enjoyed their time in Spain, they will be returning to Canada in September so Michael's brother can begin studies at Ryerson University in Toronto. "It's been a great experience and a great bonding experience for our family, but we're ready to go back to Canada," says Michael. That said, he hopes to return to Spain – or maybe another European country – in the next few years to play soccer once again.
For the future, Michael hopes to eventually put his talent and hard work to good use in a sports-related career. But his primary goal is to become a professional soccer player: "I've worked very hard and am doing my best to make this dream come true."
While soccer is his first dream, Michael loves all kinds of sports: he recently got involved in marathon running and has already completed a couple of half-marathons. "But not a full one yet. That's a goal for the future!" He has also been training in track and field, and was invited to train with Luis Javier González, a former 800-metre winner at the European Indoor Championships.
With respect to diabetes management, Michael's pump therapy is going really well. He uses the Animas® Vibe® with Continuous Glucose Monitoring (CGM). "My A1C is almost perfect," he says. "The insulin pump has definitely given me more freedom and flexibility, and it's changed my life, especially with respect to sports."
In fact, one of the best things it's done is help control the adrenaline surges he often gets before a big match or a race. With the pump, Michael can temporarily increase his basal insulin, and make adjustments and corrections. He says, "You can really fine-tune as needed, which you can't do with regular insulin therapy."
Motivation is a big part of Michael's life, and he sums it up perfectly with respect to his family: "My parents have always encouraged and motivated me. They have shown me that there are no barriers to anything you want to achieve, just because you have diabetes. When I was younger, they put me in a local soccer league even though they were concerned about how it might affect my blood sugar levels, because I really wanted to try it."
Michael has learned over time that with careful planning and preparation, you can overcome any barriers in life, including diabetes. He adds, "To a certain extent, diabetes helped motivate and challenge me. I don't want to take anything for granted, or let anything stop me."
As is evident by Michael's many achievements nothing has stopped him!
The inspiration section and articles have been made possible by and sponsored by Animas Canada.
 Animas Canada first spoke with Michael in 2014. You can read his original story here