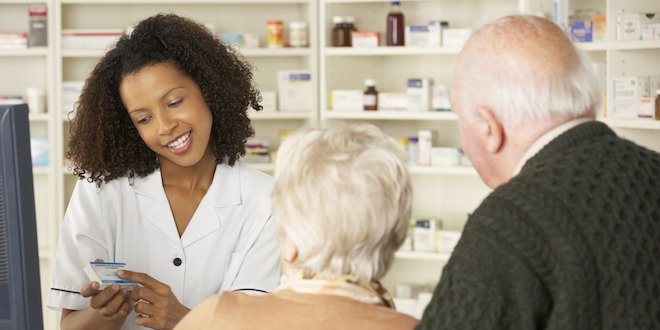 If you are taking prescription medications for chronic health conditions (such as diabetes), you may be eligible for a one-on-one medication review with your pharmacist to ensure you understand your medication regimen.
What is a medication review?
Medication reviews or assessments are offered to the general public by community pharmacists across Canada (these are pharmacists who work in retail drug stores) and, sometimes, pharmacists who work in long-term care homes. In Ontario this service is called a "MedsCheck." A MedsCheck is a private consultation with your pharmacist to ensure that you are taking your prescription medications properly, and to help you better understand how your medications interact with each other, including any over-the-counter medications you may be taking.
What is the fee for a medication review?
Medication reviews or assessments are available at no cost to people in many provinces in Canada. However, for those who reside in Manitoba and Quebec, a fee may apply.
Who is eligible for a MedsCheck in Ontario?
Any Ontarian with a chronic condition who is taking three or more prescription medications, or anyone living with type 1 or type 2 diabetes regardless of the number of medications they take, is qualified for a MedsCheck.
If the patient is eligible but unable to attend the review, a caregiver may attend in their place, if consent is provided.
What types of MedsCheck services are available in Ontario?
Annual MedsCheck

: This service is for all Ontarians who are taking three or more prescription medications for a chronic health condition. This service can be performed once a year. For those who have already received an annual MedsCheck and are planning for a hospital admission or managing their medications after being discharged from the hospital, a follow-up MedsCheck can be scheduled more frequently than once a year.

MedsCheck for Ontarians living with diabetes

: This service is for people who have type 1 or type 2 diabetes, whether or not they are taking prescription medications to help manage the condition. A follow-up diabetes MedsCheck can be scheduled as often as required.

MedsCheck for long-term home residents

: This service is for people living in a licensed long-term care home. An in-depth review can be conducted once a year; quarterly reviews (up to 3 times a year) can also be done.

MedsCheck at home

: This service is for people who are taking a minimum of three chronic prescription medications and are not able to physically attend a community pharmacy for a review. This service also includes a medicine cabinet cleanup, in which the pharmacist may take unused medications back to the pharmacy for proper disposal. This service can be done once a year.
How does a medication review benefit people with diabetes?
People living with diabetes can benefit from ongoing medication management. It provides an opportunity for patients to engage with their pharmacists to ensure that they understand how to use their medications and what to expect from them.  It may also include training regarding devices (for example, blood glucose meters) and blood glucose monitoring, as well as education on lifestyle management. Because people with diabetes sometimes have other medical conditions, pharmacists can provide advice on their overall healthcare, beyond diabetes. As well, some pharmacists are also experienced in helping people quit smoking, and can provide one-on-one counselling to support anyone who wants to kick the habit.
How do I plan for a medication review?
There are a number of things you can do to prepare for a medication review, including:
Call your pharmacist to find out the types of medication reviews they provide and book an appointment.

Write down questions you may have about your medications.

Bring all of your medications to the appointment, including herbal supplements, over-the-counter medications, inhalers, eye drops, nasal sprays and topical preparations.

Set up follow up appointments, if necessary.
Take advantage of a medication review to optimize your health management. It can pay big dividends down the road!