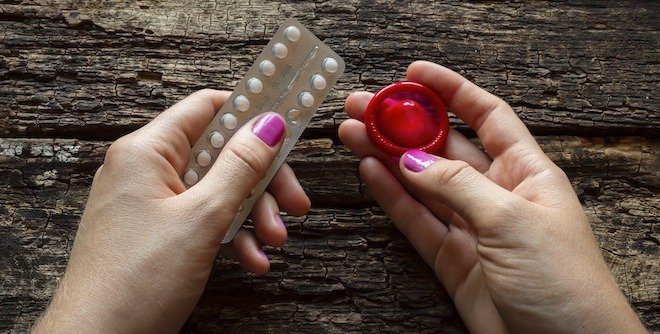 Birth control is an important issue for a woman with diabetes, as there are greater risks to the woman and her baby if the pregnancy is unplanned. Knowing the options and choosing the best birth control method is critical to ensure good reproductive health.
The following contraceptive options should be considered for women who have diabetes.
Combined hormonal contraception options
Oral contraceptives (birth control pill)
The use of oral contraceptives may cause an increase – although a small one – in blood sugar levels. This risk has decreased in the last few decades due to the changes in the level of hormones that are contained in the pill. However, women should perform blood glucose testing to see if there are any changes in blood sugar levels after starting oral contraception, in case an adjustment to their diabetes medication might be needed.
Changes in blood sugar levels are more likely with combination pills (ones that contain both estrogen and progesterone). Because the estrogen component is largely responsible for the change in blood sugar levels, it is advisable to choose the pill with the lowest possible estrogen level. In fact, some doctors may suggest pills that contain only progestin to avoid this issue. However, even with these pills, some women may experience increased blood sugar levels. Women who have prediabetes or diabetes should monitor their blood sugar levels carefully while taking oral contraceptive pills.
Also, women taking combination birth control pills should remember that there is still an elevated risk for heart attack or stroke when using this form of contraception. Since people with diabetes also have an increased risk of heart disease, this should be discussed with your healthcare team. The World Health Organization also advises that woman should not take oral contraceptives if they have diabetic retinopathy, nephropathy or neuropathy.
Patches and rings
Patches and vaginal rings normally have the same precautions as the pill.
For three weeks of the month, the patch is worn continuously for seven days and then changed. During the fourth week, no patch is worn and menstruation will occur. Like the pill, the patch is more than 99% effective at preventing pregnancy when used perfectly, with about a 3% failure rate for typical users. For women who have trouble remembering to take a pill every day, the patch may be a better option. It may be a bit less effective in women who weigh more than 90 kg (198 pounds), so this should be discussed with your healthcare team.
A woman inserts and removes a vaginal ring herself. Typically, most women find this easy to do, as the ring is held in place by the walls of the vagina. Most women cannot feel it once it has been inserted. The ring comes in only one size and does not need to be in a particular position within the vagina to be effective. The ring is worn for three weeks straight. When a woman stops using the ring, her body resumes its normal cycle and fertility returns quickly. The ring does not cause weight gain, nor does it increase the risk of vaginal infections.
Progesterone injection (Depo Provera)
Depo-Provera® is a hormonal birth control method that contains a progestin. It does not contain estrogen and, therefore, has different precautions than the combination hormonal options. It is administered by a needle in the muscle of the arm or buttocks every three months, and is 99.7% effective in preventing pregnancy. One advantage of this method of birth control is that you only have to think about it four times a year. Fifty percent of women will stop having periods altogether (this is called "amenorrhea") within the first year of starting Depo-Provera®. Other side effects include weight gain and loss of bone density.
Long-acting reversible contraceptive (LARC) methods
LARC methods are among the most efficient and cost-effective approaches to birth control. These methods include hormonal and non-hormonal intra-uterine devices (IUDs). The non-hormonal or copper IUD provides up to five years of contraception and has no negative impact on future fertility once removed. It fails in one out of 100 users per year.
The most effective method of reversible contraception is the hormonal IUD, with only 0.2% of users experiencing an unwanted pregnancy with typical use. It contains progesterone only, and therefore is safe for women with a sensitivity to estrogen. The hormonal IUD is also effective for up to five years. However, unlike the copper IUD, the hormonal one decreases the amount of menstrual bleeding and may decrease menstrual cramping.
Both types of IUDs are effective and safe for use as LARC methods of contraception for women with diabetes. However, while the hormonal IUD does not produce metabolic changes in type 1 diabetes, it has not yet been studied adequately in type 2 diabetes.
Non-hormonal contraception options
Barrier methods
These include condoms and diaphragms. Condoms can offer birth control as well as protection against certain sexually transmitted diseases. They are an effective contraceptive choice and will not affect blood sugar levels. However, if not used consistently and correctly, these methods have higher failure rates, as they must be used properly every single time; even then, it is still possible for semen to enter the vagina. There is also a slightly higher risk of women with diabetes getting yeast infections when using a diaphragm.
Some common diabetes medication can actually make a woman more fertile – such as metformin and thiazolideniodines (TZDs) – and as a result, proper precautions should be taken if pregnancy is not desired.
Regardless of which option you choose, it is important to plan for pregnancy prior to conception. Your healthcare team will then be able to improve outcomes for mom and baby by discussing the importance of strict blood glucose control, encouraging folic acid supplementation, discontinuing potentially harmful medications and reducing body weight.