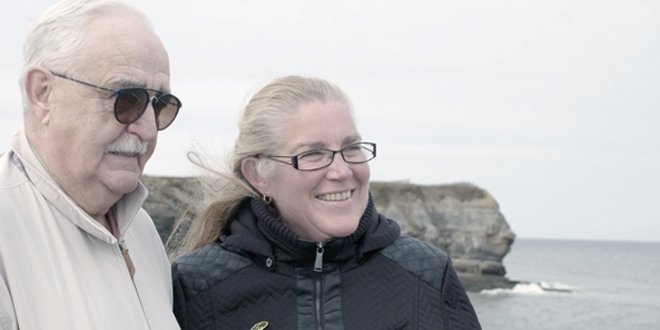 For people living with type 2 diabetes, the routines are pretty well-known – eat healthy foods, exercise regularly and take medication as prescribed. But what many people might not know is that, despite their best efforts, complications of diabetes may occur.
One of the primary complications of diabetes is heart disease, which can actually be present when diabetes is diagnosed or happen any time thereafter.
This is especially true for Weldon, a 72-year-old former fisherman from Glace Bay, Nova Scotia. Weldon has had type 2 diabetes for about 15 years and lived with prediabetes for a few years prior to that. Weldon also suffers from congestive heart failure, which happens when the heart muscle doesn't pump blood as well as it should.
Diabetes and heart disease: what's the connection?
Like many people who are at risk for or who are diagnosed with diabetes, Weldon had no idea that he was also at risk for heart disease. "I never knew that the two conditions were related," says Weldon.
In fact, heart disease is one of the most serious complications that people with type 2 diabetes can develop. The reason why people with diabetes are at higher risk of heart disease is because blood sugar levels that are consistently higher than normal can cause damage to the blood vessels.
Besides heart failure, other cardiovascular complications of diabetes include high blood pressure and high cholesterol levels, and an increased risk of heart attack or stroke. People with diabetes may develop heart disease 10 to 15 years earlier than people who don't have the condition. Unfortunately, 1 in 2 people with diabetes die of heart disease.
Managing diabetes and heart disease
Maintaining blood sugar targets, as well as blood pressure and cholesterol targets, is very important to the overall health of people with diabetes.
When Weldon was diagnosed with diabetes, he immediately began a regimen of healthy eating. Because of his heart failure condition, his dietary regimen is fairly strict but manageable. "I know that diet is a big issue with diabetes, and I have found that a high-fibre and low-fat diet works well for me."
Weldon also has to be vigilant about his heart health. "This means that I limit my salt intake as well, because excess fluid is a big issue, he says. "That said, I have to ensure that I drink enough liquid so that I don't get dehydrated."
Weldon also takes multiple medications every day to manage both his diabetes and heart failure. Luckily, Weldon is helped along on a regular basis by his daughter and caregiver, 51-year-old Nancy. She is also a fisher, who lives just around the corner from her father.
"At this point, my father is at a very good place in his life, and is able to live independently," says Nancy. "On a day-to-day basis, I help out with food choices and menu planning, and ensure that he takes all his medications." She also helps Weldon plan ahead – a big part of managing diabetes and heart disease – by ensuring he has healthy foods on hand and that his prescriptions are refilled when needed.
As for physical activity – another important aspect of diabetes management – Weldon tries to walk as often as possible. He lives in an independent-living residential facility and is able to navigate the hallways with ease. Nancy sometimes accompanies him, when she's not busy fishing.
Dealing with life's highs and lows
Weldon's journey with diabetes and heart disease has not been without its trials and tribulations. He has been hospitalized several times over the past few years for heart-related complications but is currently doing very well. "It's amazing that my father has come back from his numerous bouts with heart failure issues," says Nancy. "I have hope that his worst day is in the past and going forward it's going to get better. I try to stay really positive about the future, and just take every day as it comes."
Weldon adopts the same attitude, on a more practical level. "Every day, I try to eat healthy foods, remember to take my medications, and get a bit of exercise," he says. "If I remember to do all those things, then everything goes along smoothly."
With respect to the caregiver's role in helping someone with diabetes and heart disease, Nancy's best advice for others in her situation is to keep their eyes and ears wide open. "The person you're caring for doesn't always tell you if something is wrong, or even know when something's wrong," she says. "You have to be their advocate within the healthcare system and push for what needs to be done when needed."
Preventing and managing heart disease
If you or someone you love has diabetes, it's important to know what causes heart complications and how you can prevent or manage them. There are two types of risk factors for heart disease: those you can control (lifestyle influences) and those you can't (factors you inherit).
Risk factors for heart disease that you can control include:
Carrying extra weight, especially around the waist
High blood sugar levels for a prolonged period of time
Elevated low-density-lipoprotein cholesterol levels (the "bad" cholesterol)
High blood pressure levels
Smoking
Not getting enough exercise
Risk factors for heart disease that you can't control include:
Family history of heart disease
Older age
Gender (men are at higher risk than women)
Ethnicity (South Asian, African American and Indigenous populations have a higher risk)
Managing heart disease associated with diabetes involves the following regimens:
Keep your A1C and blood sugars in their target ranges
Keep your blood pressure and cholesterol levels in their target ranges
Incorporate physical activity into your daily living activities
Eat healthy foods
If you smoke, try to quit
Your healthcare team may prescribe medications to help control blood sugar, as well as blood pressure and cholesterol. Certain medications that help to lower blood sugar can also be beneficial to the heart. If you take diabetes or heart medications, be sure to take them exactly as prescribed.
Thanks to diligence on both Nancy and Weldon's part, his diabetes and heart disease are well-controlled at this time. "It's not without a lot of hard work and effort, but it's all worth it," says Nancy. "Every day that you're able to get up and put two feet on the floor is a good day!"
Learn more about Weldon and Nancy's journey in this short video
This article was sponsored by Novo Nordisk Canada Inc.