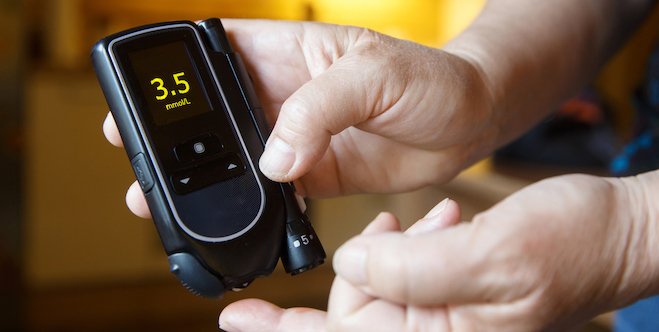 Hypoglycemia or low blood sugar is defined as a blood sugar level of less than 4.0 mmol/L in people with diabetes who are treated with either insulin or medications that cause insulin to be produced such as glyburide or gliclazide (Diamicron®). The balance between food, insulin doses and activities can be challenging.  Hypoglycemia results when there is not enough or delayed food, too much insulin, and unplanned for or increased activity. 
For many individuals who live with type 1 diabetes, hypoglycemia can be a part of most days.  It was once believed that hypoglycemic events were the price to be paid for a good A1c level.  For individuals with type 2 diabetes using insulin, hypoglycemia occurs about 1/3 as frequently as it does for type 1 diabetes and for those with type 2 diabetes who do not use insulin, episodes of low blood sugar are much lower and often go undetected.  One of the primary reasons they are undetected is that proper education is not always provided when starting these individuals on medications that can cause risk.  People taking oral medications to treat their diabetes should be counseled on hypoglycemia and provided a strategy to prevent and treat.
Why do I want to talk about hypoglycemia today?  We have learned a lot about hypoglycemia in type 1 and type 2 diabetes lately.
First of all, in type 1 diabetes, the ability to use continuous glucose monitoring systems with high and low blood sugar alarms has helped us to make sense of what is happening during times when performing self-monitoring of blood glucose is not easy, such as several times overnight.  We also can now understand more about low blood glucose levels and how long they last, and with the advances in insulin and insulin delivery systems, we are better able to achieve A1c levels that do not come at the price of frequent low blood sugars.
In type 2 diabetes, with the introduction of newer medications, we have had the opportunity to clearly understand how often hypoglycemia occurs with medications that increase insulin production.  We also have been striving for better blood sugar control in type 2 diabetes. What we have learned is that hypoglycemia occurs much more frequently than we originally thought.  Recently a study of 5 million emergency room visits in the United States determined that hypoglycemia was the second leading cause of hospitalization, especially in those over 65.
We have learned that severe episodes of hypoglycemia could also lead to an increased risk of heart attack and death in type 2 diabetes.  There is also new evidence that frequent hypoglycemia events can lead to loss of cognitive ability, or "thinking" power in both type 1 and type 2 diabetes.
Last but not least, a recent publication showed us that when blood glucose levels are low, people are more likely to fight with their spouse.  Other work that has been done also tells us that hypoglycemia truly affects quality of life for people with diabetes, their ability to work, and leads to increased fear of repeated episodes.  This new information also helps us understand that the concern and fear does not stop with the person affected by diabetes, but also extends to their family.  This can also lead to tension within families and cause the person with diabetes to feel resentful, while their family is fearful.
Please learn about hypoglycemia, the risk, the prevention, the treatment and the alternative treatments that can lead to fewer episodes. Hypoglycemia is serious, and it no longer has to be the price to be paid for a good A1c level.