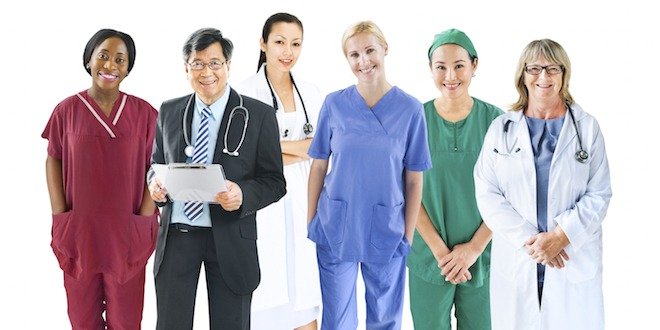 Who is on my foot care team?
Everyone needs a team behind them to help them succeed, and this goes for all areas of your diabetes management. Your diabetes healthcare team is essential to the management of your overall health, but there are some specialists involved specifically in your foot care that you should know about.
The key member of your foot care team is you! It is important that you check your feet every day for any signs of injury, or any changes in the shape or feel of your feet. If you are unable to check your feet on your own, arrange for someone – a family member or trusted friend – to help you do it. If you notice a change in your feet, contact your healthcare professional immediately.
Your family doctor helps you manage your overall diabetes. Some physicians have specialized training in foot care. An endocrinologist is a specialist who treats diseases of the endocrine system, including diabetes. A neurologist specializes in caring for nerve-related concerns (for example, diabetic neuropathy).
Diabetes educators – nurses and dietitians – provide hands-on care and support, and can teach you proper foot care techniques and procedures. Nurses can also check your feet during your clinic visit. Specialized community foot care nurses help people with diabetes with foot and nail care in their homes. Dietitians provide information about proper eating and nutritional habits; healthy eating is important for maintaining your overall health, including the health of your feet.
Pharmacists dispense and provide information about all of your diabetes medications. They can also help you select appropriate over-the-counter products, including moisturizers for your feet that are fragrance-free and don't contain alcohol (perfumes and alcohol can cause skin to dry out).
Chiropodists and podiatrists are healthcare professionals who specialize in the assessment, management and prevention of diseases and disorders of the foot. They are skilled in assessing the needs of their patients and in managing both chronic and acute conditions affecting the foot and lower limb function. They can also improve a patient's mobility and provide education on foot care.
Your family and friends are also an important part of your team. They can offer support and encouragement, and help you take care of your feet if you are unable to do so on your own.
How often should I have my feet checked?
According to the Diabetes Canada clinical practice guidelines, people with diabetes should have their feet checked at every diabetes-related healthcare visit. A full foot examination should be done at least once every year.
A full foot examination should include:
Checking the skin all over your feet and toes, to see if there are any dry, red, warm or cracked areas.
Looking for wounds or calluses.
Examining the bones and joints in the foot.
Evaluating for diabetic neuropathy
What tests are done to check my foot health?
There are a number of tests that your healthcare team might perform to check the health of your feet.
Checking for pulses in your feet
In each foot, there are two pulses that are easily detected: one near your ankle, the other on the top of your foot. When the healthcare professional checks that he/she can feel the pulses in your feet, it is to determine whether the blood flow to your feet is normal.
Monofilament test
The monofilament test is used to determine if you have any signs of neuropathy in your feet. A monofilament is a thin plastic wand, much like the bristle of a hairbrush. During this test, the healthcare professional will ask you to close your eyes, and then he/she will touch your big toe with the monofilament and ask you if you feel the sensation. If you do not feel the sensation, then you may have neuropathy and be at risk of developing a foot ulcer.
Tuning fork test
The tuning fork test is another method of determining whether you have neuropathy in your feet. This test measures your foot's sensitivity to vibration. The healthcare professional will take a 128-Hz tuning fork, ping it against his or her hand or a surface, then lightly press it against a few places on the foot and ask if you feel it. The healthcare professional will hold the tuning fork in place for about 40 seconds … so you can say when you no longer feel the vibration. If he or she feels the vibration for much longer than you do, this indicates that you may have nerve damage in your feet.
Take a step toward good health, by taking good care of your feet every day!