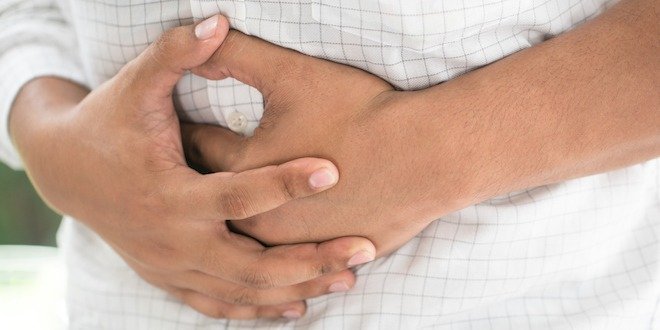 What is gastroparesis, or "diabetic stomach"?
Gastroparesis, also known as "delayed gastric emptying" or "diabetic stomach" is a disorder of the digestive tract that causes food to remain in the stomach for a period of time that is longer than average. (The word gastroparesis has Greek origins: gastro means stomach, and paresis means partial paralysis.)
Diabetic stomach can occur in people with type 1 or type 2 diabetes. It is estimated that about 40% of people with type 1 diabetes, and 30% of people with type 2 diabetes, will develop the condition. For reasons that are not known at this time, it seems to be more common in women than in men.
What causes diabetic stomach?
The main cause of diabetic stomach is damage to the vagus nerve. The vagus nerve is one of the longest nerves in the human body. It extends from the brainstem all the way to the abdomen. The vagus nerve is responsible for controlling certain bodily functions, such as keeping the heart rate constant and controlling the movement of food through the digestive tract.
If the vagus nerve is damaged or stops working, the muscles of the stomach and intestines do not work normally, and the digestion of food is slowed or stopped altogether. The main reason why the vagus nerve can become damaged in people with diabetes is consistently high blood sugar levels. High blood sugar causes chemical changes in the vagus nerve, and also damages the blood vessels that carry oxygen and nutrients to the nerve.
How do I know if I have diabetic stomach?
There are a number of diabetic stomach symptoms. The following questions might help you determine if you have the condition:
Have you had any recent changes in appetite?
Do you feel full, even though you haven't eaten very much?
Have you been having unexplained nausea?
Have you had bloating?
Have you had heartburn?
Have you had any abdominal cramping or pain?
Have you had unexplained vomiting of undigested food, especially in the morning?
Have you been having trouble controlling your blood sugar?
Have you gained or lost weight recently?
Have you experienced diarrhea or constipation recently?
How do I prevent diabetic stomach?
The most important thing you can do to prevent diabetic stomach is to control your blood sugar levels. This means eating healthy meals, getting regular physical activity, taking your medications or insulin as prescribed by your healthcare team, maintaining a healthy weight, or losing weight (if needed).
How is diabetic stomach managed?
The management strategies for diabetic stomach are as follows:
Lowering blood sugar levels with changes to your insulin regimen. If you take insulin to manage your diabetes, your doctor may change your regimen so that you take it more often, and inject it after you eat a meal instead of beforehand. Your healthcare team can help you determine the best insulin regimen to help manage your diabetes and relieve your gastroparesis.
Testing your blood sugar more frequently. This will allow you to take insulin in response to blood glucose levels as they rise, rather than in response to a meal (which might take a while to enter your bloodstream).
Dietary changes. This involves eating smaller, more frequent meals throughout the day; smaller meals are digested more easily than three larger meals. Other strategies include eating slowly and chewing your food thoroughly, sitting upright after eating, and taking a walk after meals. Your healthcare team may also recommend that you avoid high-fat and high-fiber foods. These foods take longer to digest, and can worsen the symptoms of diabetic stomach.
Medications. Your healthcare team may prescribe medications to treat diabetic stomach. Some are used to stimulate the stomach muscles, while others are prescribed to ease abdominal pain, and control nausea and vomiting. One medication, called domperidone, is approved in Canada for the treatment of diabetes stomach; it stimulates contraction of the stomach muscles to aid digestion. If you have diabetic stomach, talk to your healthcare team about medications that may be right for you.